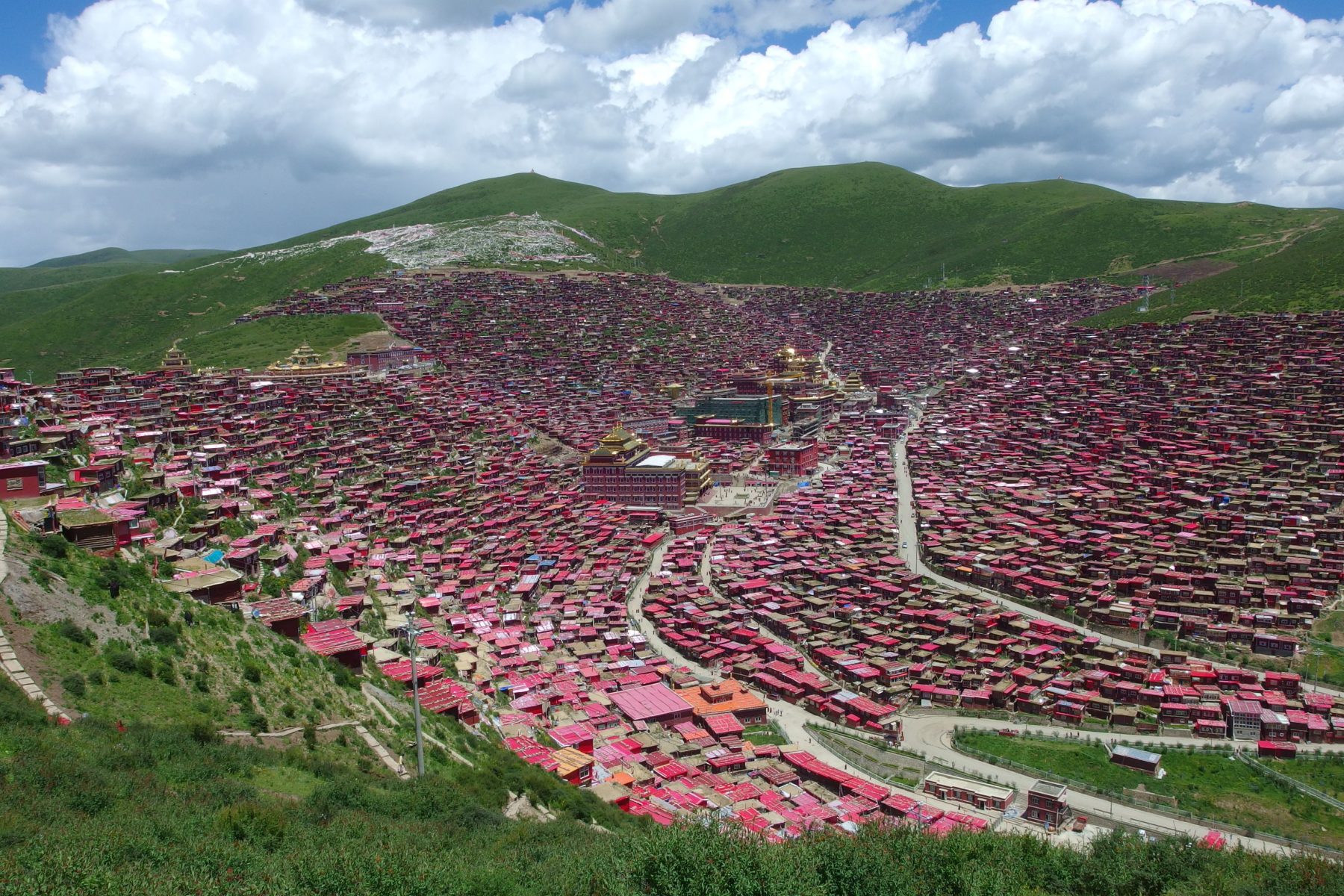 01 Nov 2017
Keywords
I boarded a bus in Chengdu, the capital city of the Chinese province of Sichuan, and headed toward eastern Tibet. My destination was the Nyingma Buddhist sect's Larung Gar Buddhist Academy, located in Ser thar of the Tibetan autonomous prefecture of Garzê, in western Sichuan.
Our journey was disrupted by some roadblocks.
I arrived at last at my destination about 13,000 feet above sea level late at night, after a 17 hour trek in which we ran into rock slides that had blocked some of the roads. I assumed it had rained recently as I tread through the muddy road bearing my luggage. I ate flavorless noodles with a family of Tibetan pilgrims who were to board the same bus as I, then we boarded the small bus and headed to our lodgings. Light shone through countless windows that seemed to float along the road, which was blanketed in darkness. Each home was small, but there was a fairly high concentration of them. However, I had to wait until the following morning to see the town in its entirety.
Our lodgings were located in a place much higher than where we were dropped off, and it seemed there was to be a large event, as there were many Tibetans who had come from elsewhere to stay there. The monks all wore maroon Kasaya. Since I lacked a reservation, I slept in one of many temporarily furnished bunk beds set up on the roof of the building.
Around 5:00 in the morning I was woken up by someone screaming in their sleep and got up to go out to the restroom. The town, which had begun to show its face in the morning light, was filled with the echoes of lengthy sutra readings. Suffering as I was from a headache due to altitude sickness, the scene looked to my eyes somehow spine-chilling. The town I had imagined in the darkness earlier had swiftly begun to show itself. Since I had a terrible headache, I slept for a while longer, then got up around 8:00 AM and began walking through the town.
When I set out, a crimson landscape was sprawled out below.
The Landscape of Larung Gar
Countless small, scarlet painted homes were splayed across the tall bowl shaped landscape.  The large building at its center was the academy, and the priests' homes surrounded it.
Surprisingly, this holy city was established as early as around 1980, when some priest built the academy. In other words 40 years had yet to pass since people had begun to live there. All of the citizens were priests who lived there for the sole purpose of their training. They lived in small homes I assume they built themselves. The village was spread out like a pool of water in a chasm.
There were almost no buildings outside the bowl-like landscape, where the gentle slopes of mountains sprawled on. This was clearly a unique location designated and built by the hand of man.
In the bottom of the bowl I could see roads that connected different locations. The muddy earth I had trod between buses the day before was certainly related to this basin-like topography.
The priests' houses seemed to spring up out of the hillside.
Homes sprang up out of the hillsides horizontally, their rooftops and walls draped in crimson paint. This contrast between red and green, which could not be seen in the nature that surrounded the space, created a separate world of its own.
The academy's towers stood along what could be considered the bowl's edge, and people had begun to gather there. One could see people performing namas-kara (a Tibetan style of prayer in which one throws oneself to the ground) among the crowd.
People gathering at the towers
About the buildings, prayer wheels, which are a significant Buddhist fixture of Tibetan worship, had been set up. I was told that one spins a prayer wheel once each time one reads a sutra. The essentials of Tibetan worship involve walking in a circle clockwise while spinning these prayer wheels.
Tibetans walking and spinning prayer wheels
From time to time I saw massive prayer wheels that were several times the height of a person. One after another people were sucked into this huge stream of bodies.
As I sat observing this activity, the sound of sutra readings flowed from the town unabated. This sense that the town itself was "singing" was somewhat frightening to a foreigner like myself, but I resolved for the moment to make my way towards the town center anyway.
Ryuki Taguma
Taguma was born in Shizuoka prefecture in 1992 and grew up in Tokyo. In 2014, he graduated from the Department of Architecture (Creative Science and Engineering) of Waseda University. He received a gold medal for his graduation project in architecture and received top recognition for his graduation thesis. From April 2014 he began life as a graduate student in architectural history, studying under Norihito Nakatani. In June of 2014 he proposed a restoration plan for residents of Izu Ōshima for a sediment-related disaster. This would become his graduation project. In 2015 he took a year off from school to travel around villages and folk houses in 11 countries in Asia and the Middle East, visiting countries from China to Israel. In 2017 he graduated from Waseda University's Nakatani Norihito Lab with his master's in architectural history. His dissertation received the Sanae Award. From May on, he has been working under Huang Sheng-Yuan at Fieldoffice Architects, in Yilan County, Taiwan.