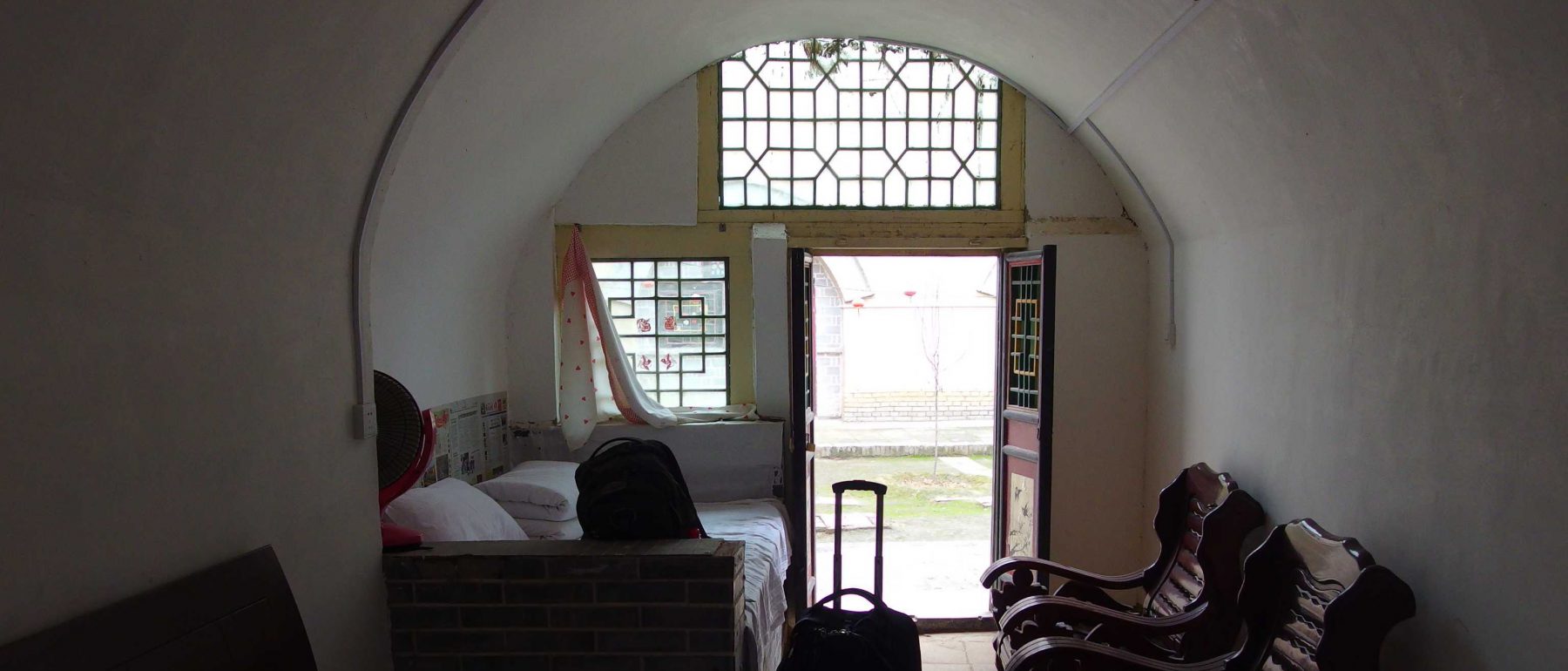 09 Dec 2016
Keywords
A square hole on dry, ocherous land.
A large hole seen on a piece of ocherous land
People live inside that hole.
Life in the hole
I stopped in on the village of Zhangcun in Sanmenxia City, Henan.
It is located within the Loess Plateau (or the Huangtu Plateau), which spreads around the upper and middle Yellow River basin. From time immemorial, the loosely compacted yellowish deposits known as loess is transported by wind from western desert and deposited in stacks reaching as high as 100 or 200 meters. Here in Japan we sometimes speak of yellow dust, and this plateau is where it comes from. Suddenly the world feels a lot smaller.
Today, still, there are people in this plateau living inside these underground caves. They call their dwellings yaodong. Some of you may have read about such dwellings in Bernard Rudofsky's Architecture Without Architects (1964).
There is a reason, of course, that this community lives in caves. Due to the influence of the continental climate, this area experiences drastic temperature differences in the shift from winter to summer. Living underground ensures that one stays cool in summer and warm in winter. This is the wisdom of the people living in the Loess Plateau.
Even knowing this, I was not sure if people actually continued to live in such a manner. I came here to find out.
…My quest was a sort of success.
As I imagined, there were many abandoned yaodong. Some people turned their underground dwellings into storage and lived in a small hut above ground.
A collapsed Yaodong
But still, life in yaodong has not disappeared entirely. A few active caves can be seen here and there within the small village.
Peering down into one yaodong from above ground, a mother and son were preparing their lunch. It was dark and I could not see well, but they were using a furnace made of the same color as the surrounding loess soil. The blackness of a soot-smeared cooking space suggests the oldness of this cave.
A mother and son still living in an underground cave
Some caves are still in active, and some are not: but were all dwellings of this village yaodong? I have seen lots of those as I walked by.
I stayed a night in the town's only inn. As you might expect, it, too, was yaodong. The proprietors of the inn renovated an old yaodong, serving also as a facility of sorts to show yaodong to people from outside the village. The walls are not bare loess but plastered and decorated with bricks. One of these caves became my lodging. If memory serves me correctly, it was about 1200 yen per night with three meals included. There were no other guests.
A beautifully renovated yaodong inn
Since I was staying in a yaodong I decided to measure my room.
The room was about 6 meters in depth and painted white, and a traditional bedding made of black brick called a kang sat at the front of my room while a double bed was situated in the back. I must have been their first guest in some time: a pair of chairs sitting next to each other was slightly covered with dust.
A measured drawing of the room
It was extremely humid inside the room, and even the bed in the back felt damp. The bedding smelled musty, and I cannot say it was very comfortable. Newspapers were put on the wall beside the bedding in an attempt to control humidity. I've never seen this kind of "newspapered wall" before.
The only openings in this yaodong are its main entrance and a window next to it. The further in you go the worse the humidity becomes. I came to learn first-hand that it is not the case that the deeper one digs the more comfortable a cave becomes.
This encounter with a yaodong was an encounter with the "needs of underground."
The sight from the back of my room of the entrance letting air and light in
Ryuki Taguma
Taguma was born in Shizuoka prefecture in 1992 and grew up in Tokyo. In 2014, he graduated from the Department of Architecture (Creative Science and Engineering) of Waseda University. He received a gold medal for his graduation project in architecture and received top recognition for his graduation thesis. From April 2014 he began life as a graduate student in architectural history, studying under Norihito Nakatani. In June of 2014 he proposed a restoration plan for residents of Izu Ōshima for a sediment-related disaster. This would become his graduation project. In 2015 he took a year off from school to travel around villages and folk houses in 11 countries in Asia and the Middle East, visiting countries from China to Israel. In Yilan County,Taiwan, he worked as an intern at Fieldoffice Architects.