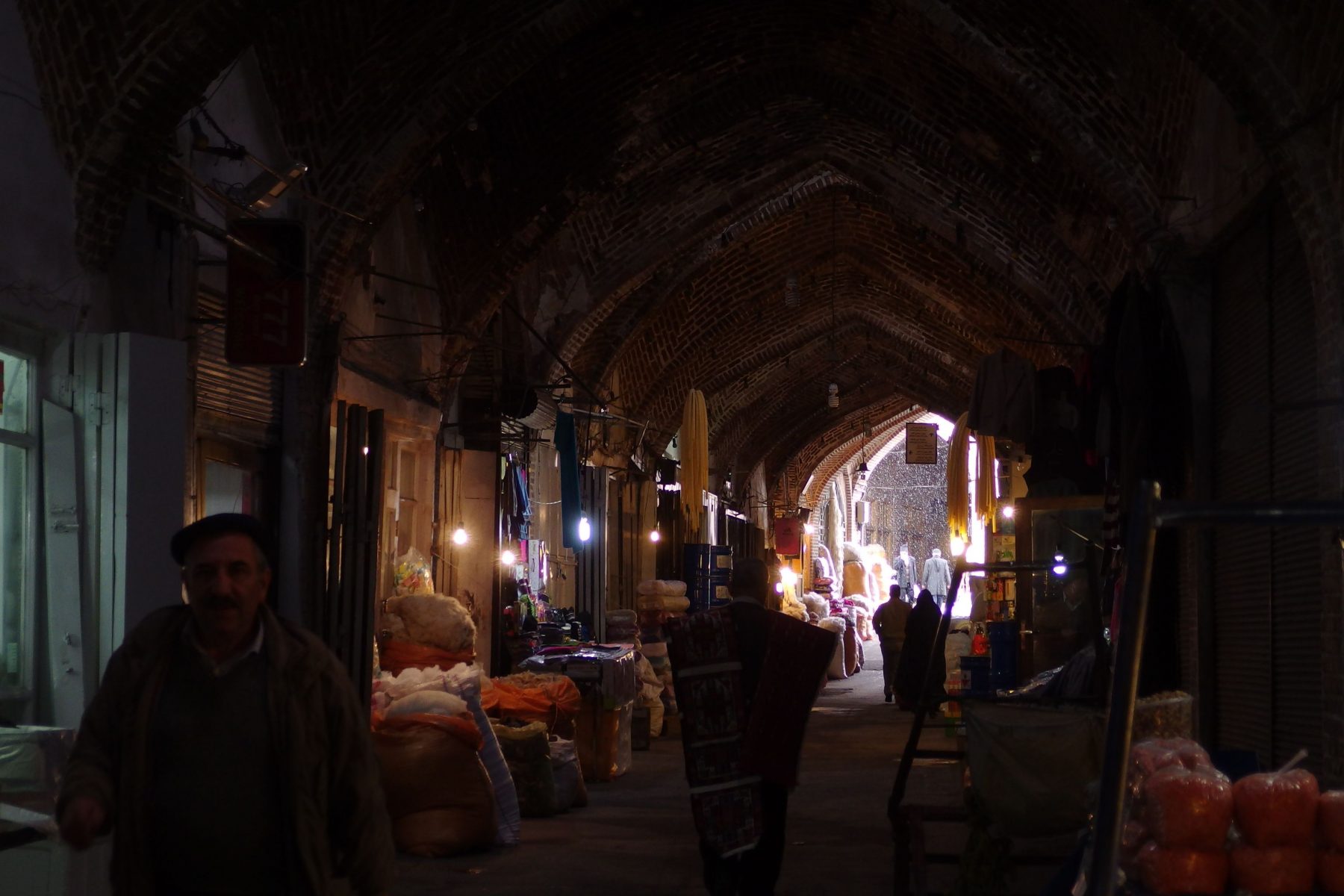 08 May 2019
Keywords
Outside my bus window, a new sight to me stretched as far as the eye could see. Smooth mountains that seemed to be striped red and white, sharp and freshly shaved mountains colored bright red, and continuous purple plains. I knew I was on Earth, but images of other stars, like the Moon and Mars, ran through my mind. When untouched by human hands, nature can look frightening.
Iran is cold in January. Snow had begun to fall by the time I reached the northwestern city of Tabriz, the temperature below freezing.
The alien landscapes of northwest Iran
Many Azerbaijanis live in Tabriz, an ancient city whose history can be traced back to around the third century. It's said that the town's bazaar is the oldest in the world, and it is laid out in such a complicated way that it's impossible to grasp it in its entirety. I decided to walk the bazaar, in part to escape from the snow which had been falling for days.
Taking refuge in the world's oldest bazaar in snowy Tabriz
Clothes, jewels, food, and more are all sold at the bazaar, with different products being divided into different areas. The areas selling daily necessities are particularly crowded. Both store employees and customers are almost exclusively men, giving me a firsthand experience of just how male dominated Islamic society is. People often called out to me as I walked its paths, and some even treated me to tea. While the men must have been working, they seemed to be enjoying themselves, chatting as they drank their black tea.
Each of the domes that the bazaar is made up of has a hole in it, allowing light to dot its paths. The snow that fluttered inside seemed beautiful in the way that it mediated between the harsh outer environment and the very human interior space. In times before electricity, this must have been a dark space lit only by these lights, and it must have played a vital role in this town. Cities must come about by way of the creation of these kinds of artificial environments.
Snow falling from the dome's hole
I was particularly interested in the area with rows of Persian rug stores. Perhaps it would be best to describe it as a place where older hatted storeowners are buried in bright red carpets. Among them, I got along particularly well with a middle-aged rug seller named Saeid. He spoke English, and despite being on the job, he still showed me around the area.
This area had little traffic, as rugs are not something one buys frequently. From here I could take my time and observe the bazaar space. His store was generally narrow, about 3 meters across and two stories in height, and neighboring stores were all around the same scale. As large rugs many meters long would not fit in the stores, it seemed that the wide paths were used to both store rugs and as extensions of the stores.
A corner of the rug area
According to Saeid, stores use their first floors as shops and second floors for storage space, and the old wooden windows installed there are called "Uruthi." These storage spaces must have large windows and doors because their tight confines require shops to use ladders to take goods in and out of them from the outside.
As the bazaar's repeating structure works to mitigate the effects of the harsh external environment, these entrances are opened quite wide. Different stores also use fittings of different designs and colors on them, allowing them to also act as store signs.
Wooden windows called "Uruthi"
Saeid closed shop early, a little after 2 in the afternoon, and invited me to his home a bit of a drive away. The bazaar was strictly a workplace, with the men working there all living in the suburbs. They apparently go to work each morning at 9 and stay until 5 in the afternoon there in the dark "city" dotted by lights where goods and people gather from all around each day.
His home was clean and quite large, with a number of rugs all around, as one might expect of a rug seller. He spoke to me about a number of topics as he treated me to a late lunch with his two daughters.
Saeid's home
"In Japan, workplaces are large and homes are small. Iran is the opposite, where workplaces are small and homes are large."
To Saeid, his "city" is a place to work, not to live. This made me realize that those who've lived in the ancient city of Tabriz may have a good understanding of how to approach one's relationship to a city.
Ryuki Taguma
Taguma was born in Tokyo in 1992. In 2014, he graduated from the Department of Architecture (Creative Science and Engineering) of Waseda University. He received a gold medal for his graduation project in architecture and received top recognition for his graduation thesis. In 2015 he took a year off from school to travel around villages and folk houses in 11 countries in Asia and the Middle East, visiting countries from China to Israel. In 2017 he graduated from Waseda University's Nakatani Norihito Lab with his master's in architectural history. His dissertation received the Sanae Award. From May on, he has been working under Huang Sheng-Yuan at Fieldoffice Architects, in Yilan County, Taiwan.