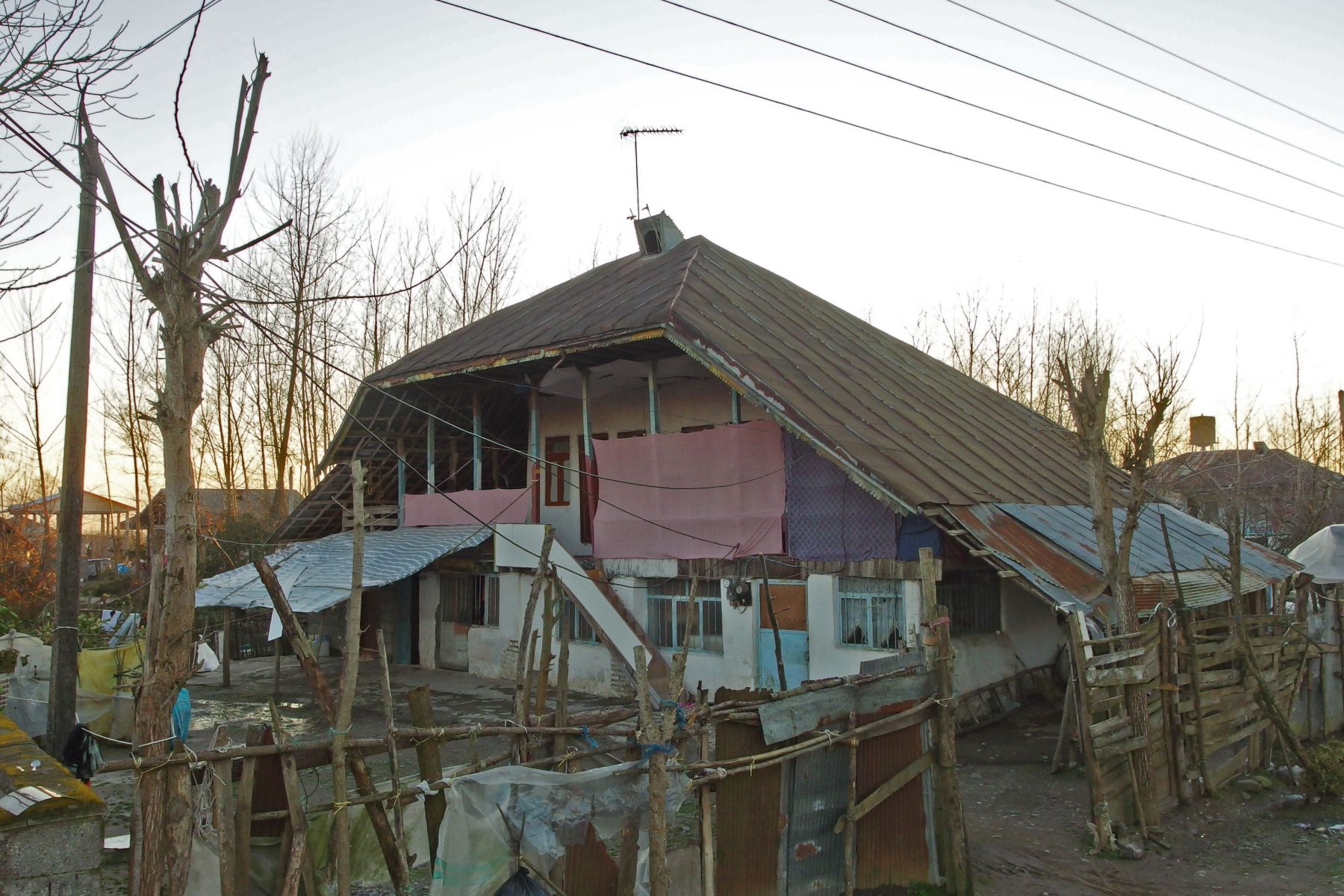 07 Feb 2019
Keywords
In Kachalam, a village in East Gilan, a man agreed to show me around in his car despite it only being our first meeting. As he did, I discovered one home that seemed conspicuously old. I told him I wanted to see it, and so he stopped the car. Fortunately, he also brought over the elderly couple who lived in it. They told me they lived together in the first floor of the building. The home was seriously damaged, having lost one roof, and it seemed to me that it was the oldest one I'd seen so far. It was hard for me to communicate with them, but if you were to believe what I learned from the couple, it was 140 years old.
What seems to be the oldest home in Kachalam
Thanks to this introduction I received from the man showing me around (he probably said a young man from "Japon" had come to see their home), I was even able to look inside for a little bit. Unlike China, Chinese characters are not used in Iran, nor were there many people who could speak English, like in India. This was also my first time visiting an Islamic nation, making it hard for me to simply ask to see the inside of someone's home. I was very fortunate to have someone showing me around the village.
It was dark inside. I saw a slight amount of light shining in from small windows, and I also saw window-like "niches" carefully inscribed on the walls. Each of these niches were 40-50 centimeter squares plastered into the white walls. Eight niches each were on three walls, for a total of 24.
Wall niches lining the dark room
These niches were also all over the outer walls, and I'd actually seen many of these in the relocated home at the museum discussed in the previous issue. It isn't easy to create windows in walls built out of criss-crossing lumber walls then plastered over with mud. While one may not be able to call it a replacement, they've created many window-like niches on parts of the wall by indenting certain parts of it. It seems that in the past, they were used to decorate a room with photographs, or as shelves where small items could be placed. Together with the once again window-like frame patterns below the niches, these may have something to do with the ways and customs of the people in the area. While they do bring to mind niches found on Islamic mosques known as "mihrabs," their details remained a mystery to me.
Decorative niches carved into outer walls (Kachalam village)
Like the curator had told me at the museum, traditional houses in the area were being replaced with those built from concrete (though to be more accurate, they were mostly brick buildings covered in mortar). That said, these brand-new types of homes do not suddenly get built out of nowhere. It seemed there was a gradual transition from traditional homes to the new types. Even as I walked through the village, I saw many strange homes that you could say were undergoing this process of change.
A home whose foundation had been changed into brick pillars
For example, many of the campfire-like foundations seen in the previous issue that are characteristic of East Gilan's raised homes had been changed to brick pillars. This makes it appear as though the upper structure has been placed on top of pillars. However, fixing the foundation to the ground weakens one of the original purposes of this unique type of construction, strength against earthquakes. The supporting platforms created atop the surface were gone as well, and spaces under floors were being used as storehouses or doghouses.
A home with a ground floor
At the same time, I was now able to see many homes with ground floors, as a foundation of brick pillars can easily provide height between the surface to the floor as compared to criss-crossing lumber construction methods. While some were used as livestock, I saw others used as living spaces. Foundations were raised in part as a way to combat the frequent flooding in the area, but now that the rivers are better maintained, there must be less damage from flooding to begin with.
As a result, these homes made from brick and concrete were larger than traditionally built homes, and they contained many windows. It was clearly easier to create windows in such buildings as compared to the times when homes were made from criss-crossing lumber plastered in mud. I could find none of the niches that stood out in that dark room inside these bright homes that were more convenient and easier to live in.
A now-brightened room
Ryuki Taguma
Taguma was born in Tokyo in 1992. In 2014, he graduated from the Department of Architecture (Creative Science and Engineering) of Waseda University. He received a gold medal for his graduation project in architecture and received top recognition for his graduation thesis. In 2015 he took a year off from school to travel around villages and folk houses in 11 countries in Asia and the Middle East, visiting countries from China to Israel. In 2017 he graduated from Waseda University's Nakatani Norihito Lab with his master's in architectural history. His dissertation received the Sanae Award. From May on, he has been working under Huang Sheng-Yuan at Fieldoffice Architects, in Yilan County, Taiwan.