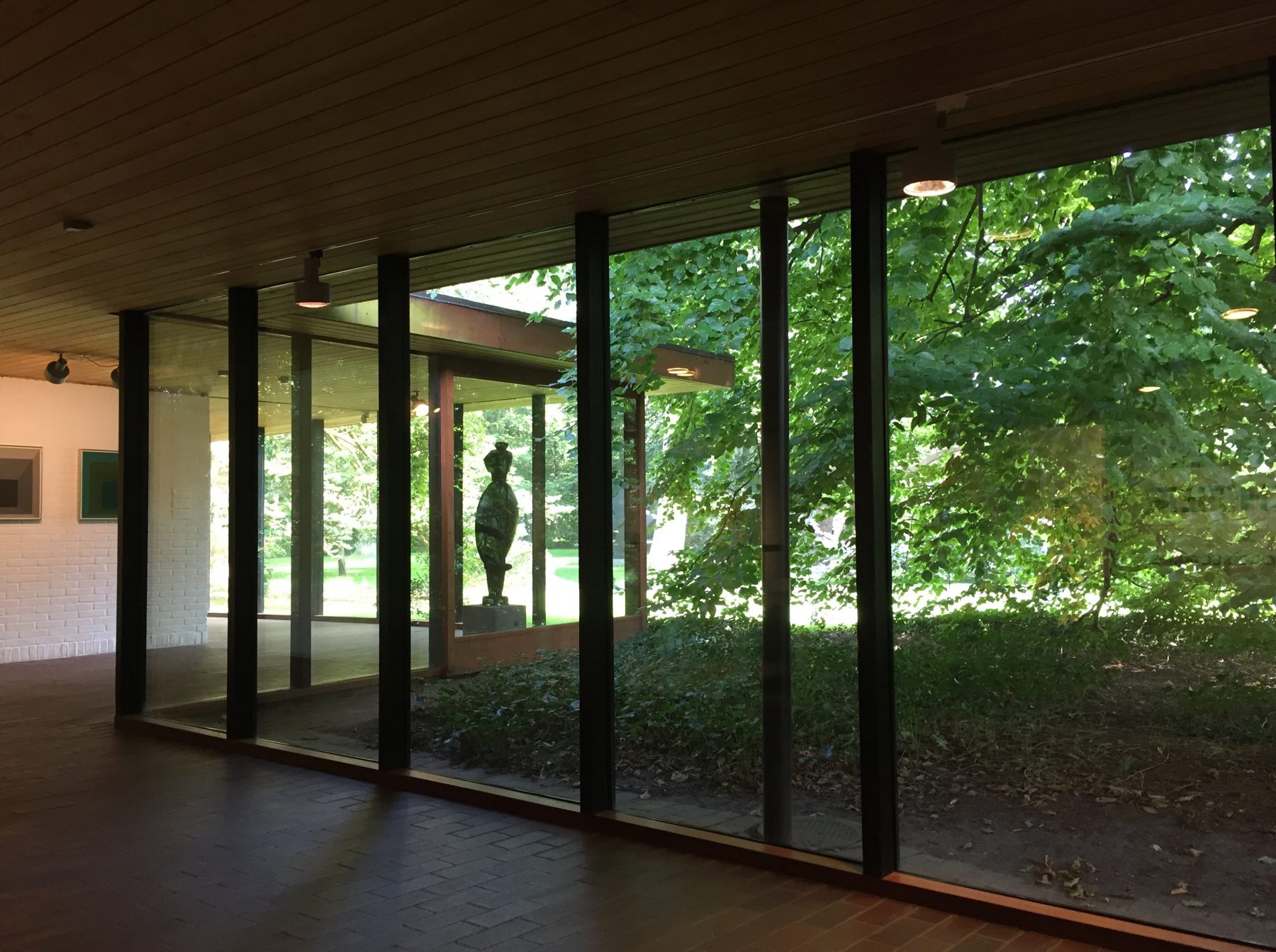 Part 3: Apertures for Walking Through
15 Nov 2017
Keywords
One way to use an aperture is to pass physical things through it. In most cases apertures are installed at the border between an inside space and outside space. Through them people and things go in and out. When a space that was closed off is opened up and the inside and outside spaces are connected, everything changes. For example, many different kinds of stimulation from the outside such as fresh air comes flowing in, birdsong and the sound of waves can be heard, and you can smell the fragrant scent of flowers from outside when an aperture is opened. Conversely, people at times erase the border between the two spaces by bringing their activities outside. Examples of this are when people eat, read, or play musical instruments outside.
The apertures I will introduce in this article are ones that seamlessly link inside and outside spaces when they are opened, and are made for the purpose of allowing people to go in and out through them. Glass, with its translucence, plays a big role in these cases by visually erasing the border between inside and outside, or linking them together.
1.Residence
This residence, a major characteristic of which is the stretch of large windows that run along the wall facing the garden, is called Kokfelt House, and was designed by Arne Jacobsen in 1957. You can go in and out of the building by opening and closing the sliding and hinged glass door. The living room is a level above, and you can step outside to a wooden deck from there to gaze out at the sea. You can go out to the deck from each of the rooms on the upper floor, and you can descend to the garden from the deck with a set of stairs as well. One can imagine that they held garden parties and barbeques on the green lawn.
In Denmark at the end of the 1950's many similar residences were built. Halldor Gunnløgsson's Own House (built in 1958) and Poul Kjærholm's Own House (built in 1963) are well known to use Japanese traditional architecture as references, but Jacobsen, who was always ahead of his time, integrated sliding doors and a garden facing deck into his residence even earlier than those two.
Not only in Denmark but also in other European countries the concept of sliding doors had yet to be invented. The Japanese fusuma, which allowed one to open up or close up a space flexibly, was a fresh, new idea for them. Many considered them modern and functional, and after the war they became quite fashionable. At the root of this phenomenon was the Japanese magazine "The Japan Architect," which was published abroad in June of 1956 in English, providing many more opportunities for people to see sliding doors. A deck from which one might appreciate a garden can be accessed when sliding doors are opened, creating a buffer zone, or a "between space" so to say, that connects the inside and outside spaces.
Arne Jacobsen's "Kokfelt House" (built in 1957 in Denmark)
The next residence that I would like to show is "Villa Schreiner," built in 1963 and designed by Norwegian architect Sverre Fehn. This is another example of a building where the inside is unified with the garden when the sliding doors are opened. As one might expect, the building is connected to the garden through a wooden deck, allowing one to enjoy a space where the inside and outside are connected seamlessly. One can really take in the natural environment and scenery of the four seasons there.
Sverre Fehn's "Villa Schreiner" (built in 1963 in Norway)
The next residence is the Norwegian architect Arne Korsmo's simple but elegant "Villa Stenersen," which was built in 1939. The music room, with a cinnabar grand piano in it, was designed from the beginning to be connected to the outside, so if you opened the glass doors you could have a salon concert. The client, a wealthy investor, wanted to have a space to display his art collection, so they asked Arne Korsmo, who had begun to distinguish himself as a functionalist architect, to design the house. The building was later given to Norway's prime minister in 1974, and has been managed by Norway's National Museum of Art, Architecture, and Design since 2014. It has been restored to its original state and is open to the general public now.
Arne Korsmo's "Villa Stenersen" (built in 1939 in Norway)
Arne Korsmo built a personal villa in 1955 using the concept of a "working house," where one's work space is right next to one's living space. A notable characteristic of it is the glass wall that faces the garden, and it closely resembles the American architect couple, the Eameses' personal villa. In fact, the Korsmos had contact with the Eameses, and were influenced quite a bit by them.
2.Art Museum
One of the characteristics of the Louisiana Museum of Modern Art is the fact that one can go inside or outside from any point on the premises. The museum is designed so you can walk around it freely. One is led along by sculptures which can be seen from the inside through the windows, and many people step out onto the promenade as a result. The pathways that link the exhibit rooms are filled with art pieces both inside and out so one can enjoy plenty of art while they move between exhibitions.
Vilhelm Wohlert and Jørgen Bo's "Louisiana Museum of Modern Art" (built in 1958 in Denmark)
3.Public and Commercial Building
After the war Jacobsen designed Munkegaard Elementary School with a courtyard, garnering attention for his landmark designs, but he used courtyards in designs for libraries as well. It feels amazing to read outside while soaking in the sunlight on a beautiful day, does it not? Grass, flowers, and trees are planted in the courtyard so you can enjoy the different environs of all four seasons, and there are benches so you can sit and eat lunch as well. A space like this is necessary for getting a breath of fresh air and switching up the pace, making it a perfect complement to a library.
Arne Jacobsen's "Rodovre Library" (built in 1969 in Denmark)
The Royal Danish Library, also known as the "Black Diamond," makes use of a steep escalator to connect the upper and lower floors, expressing a sense of liberation with a massive wellhole style open space. Beyond the large glass panes a canal extends outward. When one descends using the escalators, one feels as though they will be swept out to the canal. If one tires of poring over word after word in the reading rooms, I recommend you go out to the other side of the huge glass wall. Chairs are set up outside and people bustle about lost in thought as they stare out at the boats floating by on the canal, talking to their friends, or getting lost in a book.
Schmidt Hammer Lassen's "Royal Danish Library" or "Black Diamond" (built in 1999 in Denmark)
People pass time relaxing and eating when they go to a café or restaurant. No matter where you go in the world people like restaurants with great views. This is a café and restaurant with a great view of the coast along Bellevue Beach, which means "beautiful beach." The restaurant's style is unified by the furniture, lighting, and tableware, which were all designed by Arne Jacobsen. In the surrounding areas are apartments that were designed by Arne Jacobsen as well, making it a pilgrimage destination for those interested in architecture. I highly recommend drinking some tea there while staring out at the horizon and the blue ocean and sky.
Arne Jacobsen's "Bellevue Restaurant" (built in 1937 in Denmark)
In this series I categorized Scandinavian apertures over the course of three articles. "The Aperture as a Source of Light" is designed to bring light into an indoor space. In "Apertures that are for Viewing Scenery" I chose fixed windows that are made to delight the eyes by allowing one to enjoy an outside view from inside. In "Apertures through Which People Pass" I discussed apertures that are designed for people to go in and out of, as well as ones that are designed to erase the border between the inside and out, and by doing so connect them seamlessly. Of course there are other ways to categorize apertures, and there are yet more varieties of them out there. However, we focused on these three specific categories and looked at the roles that apertures play in Scandinavia, a region with a harsh climate due to its geographical location. I believe we have come to understand a bit more about just how important apertures are, how they can change the quality of a space, and how they make people's lives richer. There is a vast and deep world to research on the topic of apertures, and I would like to continue to learn yet more about them.
Nahoko Wada
Nahoko Wada was born in Niigata prefecture, and received her Ph.D. from Keio University's Graduate School of Media and Governance. She has worked at The Museum of Modern Art, Kamakura & Hayama, Copenhagen University, Tohoku University of Art and Design, Tokyo University of the Arts, and Keio University. Her specialities are the history of modern Japanese and Scandinavian residential architecture. She published several books include "Water Usage Spaces and Equipment in Modern Japanese Houses," (Kindai nippon no mizu-mawari) "Modern Houses in Scandinavia," (Hoku'ou modan hausu) "Arne Jacobsen," (the above published by Gakugei Publishing) and "Travel Essay on Scandinavian Architecture" (published by Yamakawa Publishing). She established, "Access Point: Architecture-Tokyo" in October of 2016.