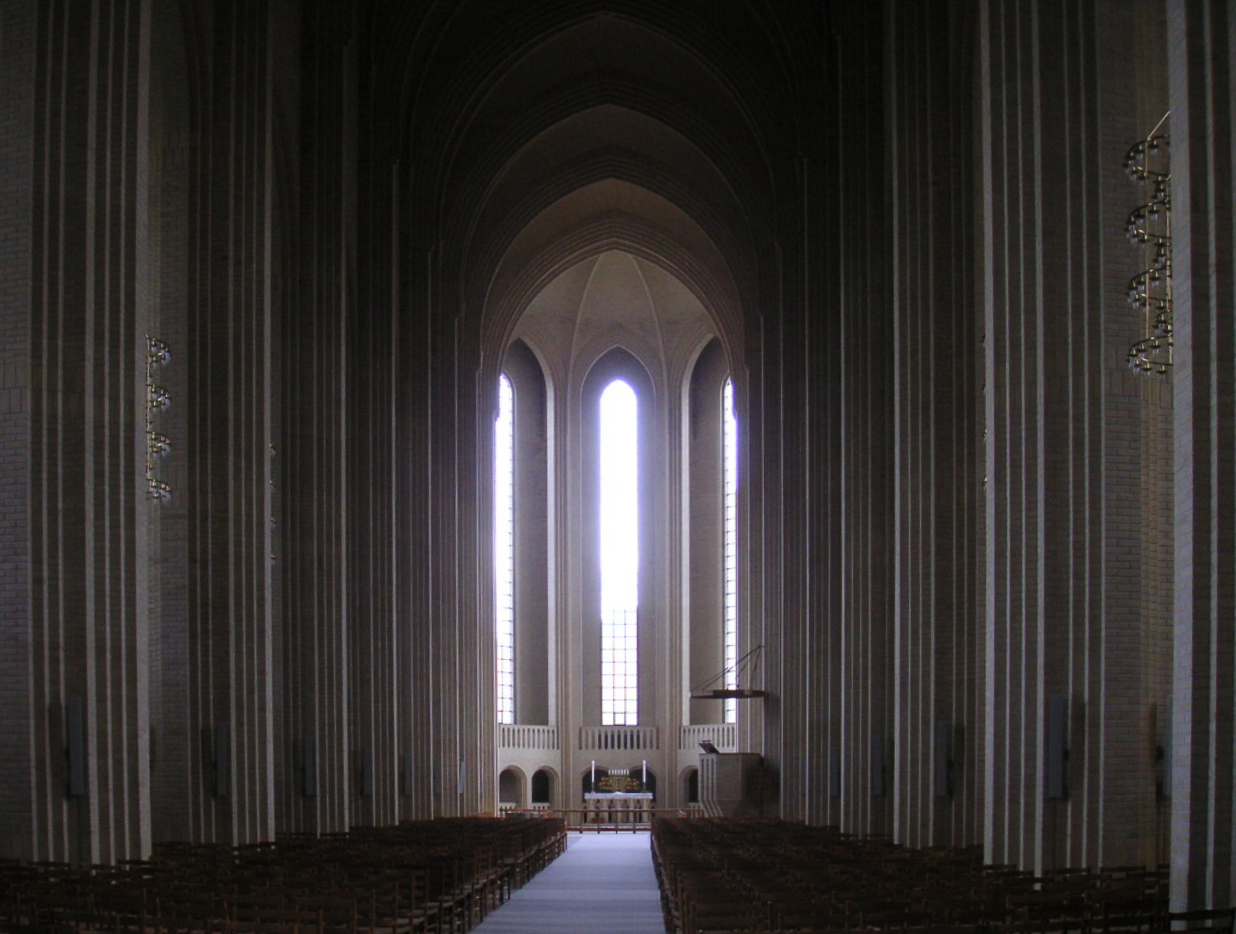 Part 1: Apertures for Light
20 Sep 2017
Keywords
Fleeting and weak though it is, light in Scandinavia has a mysterious kind of allure to it. Could it not be that the peoples of Scandinavia worship the light of the sun precisely because it fades so easily?
I lived in Denmark for two years, from 2006 to 2008. Living there, I was surprised to find that most houses did not have curtains in their windows. People didn't seem to mind even if the inside of their houses were completely visible from the outside. Rather, they would decorate their windowsills with flowers or figurines and display their interior design with pride. That said, the most important purpose of this set up was to allow as much light as possible into the house.
Statistically speaking, Scandinavia has many cloudy days. Even on mornings in which you could not spot a cloud in the sky, by the afternoon the skies often change into a dull lead color. This being the case, if one spots a clear blue sky through the window, one is filled with the urge to immediately rush outside. Since Scandinavia is positioned at a high latitude, the length of a day changes drastically depending on the season.
Sunlight is precious to Scandinavians as well as their architecture
I would like to focus on light and space in this article by introducing several different ways light may enter a space through an aperture.
Arne Jacobsen's "Bellavista Housing Complex" (built in 1934 in Denmark)
1.Church
As the outer appearance of Scandinavian churches is exceedingly simple, so the appearance of the inside is as well. One sees few religious paintings or stained glass. One can perceive the humble spirit of the Scandinavian people, which proclaims that no more is necessary than the bear minimum in a prayer space.
1-1.Light from the Ceiling
Natural light at times plays the role of courier of heavenly revelation. The Swedish architect, Sigurd Lewerentz, who was particularly skilled at designing religious buildings, was adept at manipulating light in dramatic ways. At St Peter's Church, long and thin slits are borne into the ceiling, allowing in threads of light that create distinct lines on the floor of the dimly lit interior.
Sigurd Lewerentz's "St Peter's Church" (built in 1966 in Sweden)
A faint, blurry halo of light flows down from above the altar in Islev Church, built by Danish architect couple, Mr. and Mrs. Exner, who were influenced by Lewerentz. Bricks which have been purposefully arranged inconsistently make a wall that creates the illusion of a curtain of light billowing softly.
Inger & Johannes Exner's "Islev Church" (built in 1970 in Denmark)
The Danish architect, Jørn Utzon's "Bagsvaerd Church" creates a sky of sorts indoors, manipulating light in the process with a vaulted ceiling that confronts the viewer with the power of a cumulonimbus cloud. A soft light accompanied by faint shadows is visible in the between space of the room. The design depicts the slivers of radiance that one spots between clouds and succeeds at flirting with a complex expression of light. It is certainly not a powerful light, but rather a faint, transient one. It seems to be the sky that the Danish look up to see every day.
Jørn Utzon's "Bagsvaerd Church" (built in 1976 in Denmark)
1-2.Oblong Light
Oblong windows express the verticality of facing heaven. "Grundtvig's Church" was built one traditional Danish yellow brick at a time, and took many years to reach completion. Its outward appearance inherits the unique shape of Denmark's old churches, its resemblance to a pipe organ making up one of its major characteristics. The inside has a dignified appearance and is imbued with tranquility, with the successive rows of vertical light leaving a lasting impression on the viewer.
Jensen-Klint's "Grundtvig's Church" (built in 1926 in Denmark)
Covered in white and symmetrical, the inside of "Seinäjoki Church" has long, thin windows lined up at regular intervals. The Finnish architect Alvar Aalto has designed many churches, but this one maintains harmony even more than the rest, clad as it is in a clean, elegant air.
Alvar Aalto's "Seinäjoki Church" (built in 1960 in Finland)
In "Kaleva Church," curved concrete walls are lined up irregularly, and light flows through random openings between the curves. Behind the altar and before the fairly broad glass pane, an impressive wooden carving that is larger than the cross is set. Its complex design and indeterminate dimensions lends a sense of tension to the air, in stark contrast to "Seinäjoki Church," which was built around the same time.
Reima and Raili Pietilä's "Kaleva Church" (built in 1966 in Finland)
2.Residence
I'd like to introduce examples of living spaces in which Scandinavian architects have integrated light with impressive designs.
In "Villa Schreiner," long horizontal windows along the ceiling form shafts of light, creating a design that emphasizes horizontality. In the daytime natural light plays a similar role as man-made lighting, and the bundles of light that gather together intrude upon the living space.
Sverre Fehn's "Villa Schreiner" (built in 1963 in Norway)
At "Villa Mairea," a powerful light seeps in through tile-shaped partitions that have been randomly arranged above the wall. A study lies on the other side. This impressive light lends a sense of movement to the space with a character much like the sound of a piano.
Alvar Aalto's "Villa Mairea" (built in 1939 in Finland)
"Can Lis," the own house of Danish architect Jørn Utzon built in his later years on an island in Spain called Majorca, is overflowing with the dazzling light that can only be found in the Mediterranean, much unlike Scandinavian buildings. The tall, thin windows in the living room function as a "sundial," allowing shafts of light into the room for only moments a day. Is it permissible to say that this is Utzon's only playful design? Or one might presume, groundlessly, that it is a symbol meant to impart something to us.
Jørn Utzon's "Can Lis" (built in 1972 in Spain)
3.Public Building
I will now introduce two public buildings designed by Danish architect Arne Jacobsen.
A large five story wellhole style space makes up the vestibule of the city hall of Denmark's second largest city, Aarhus. The crescent skylight that is borne successively into the sawblade shaped ceiling creates a sense of rhythm and elation, giving a sense of friendliness and liberation to city residents.
Arne Jacobsen's "Aarhus City Hall" (built in 1941 in Denmark)
The masterpiece of Jacobsen's final year is "The National Bank of Denmark." In the lobby, the sunlight that flows through the tall slit windows lights up the wall on the opposite side and moves slowly across, much like a sundial. In contrast to the inorganic appearance of the outside, the inside seems to tell a story, with an atmosphere much like that of a church. If one takes a step inside the building, one cannot conceal their surprise upon realizing the stark difference from the outside.
Arne Jacobsen's "National Bank of Denmark" (built in 1978 in Denmark)
If one spends some time lingering in the spaces I introduced here, one is made aware of the fact that the sun is perpetually moving. The architects discussed here calculated the movement of the sun, then attempted to design their apertures to transform the inside space at a specific time of day. Perhaps Scandinavian architects were particular about creating aperture designs that bring light indoors precisely because light is so precious there. The modernists of Scandinavia did not stop at pursuing functionality, but weaved a beautiful tale in space through the design of their apertures.
Nahoko Wada
Nahoko Wada was born in Niigata prefecture, and received her Ph.D. from Keio University's Graduate School of Media and Governance. She has worked at The Museum of Modern Art, Kamakura & Hayama, Copenhagen University, Tohoku University of Art and Design, Tokyo University of the Arts, and Keio University. Her specialities are the history of modern Japanese and Scandinavian residential architecture. She published several books include "Water Usage Spaces and Equipment in Modern Japanese Houses," (Kindai nippon no mizu-mawari) "Modern Houses in Scandinavia," (Hoku'ou modan hausu) "Arne Jacobsen," (the above published by Gakugei Publishing) and "Travel Essay on Scandinavian Architecture" (published by Yamakawa Publishing). She established, "Access Point: Architecture-Tokyo" in October of 2016.