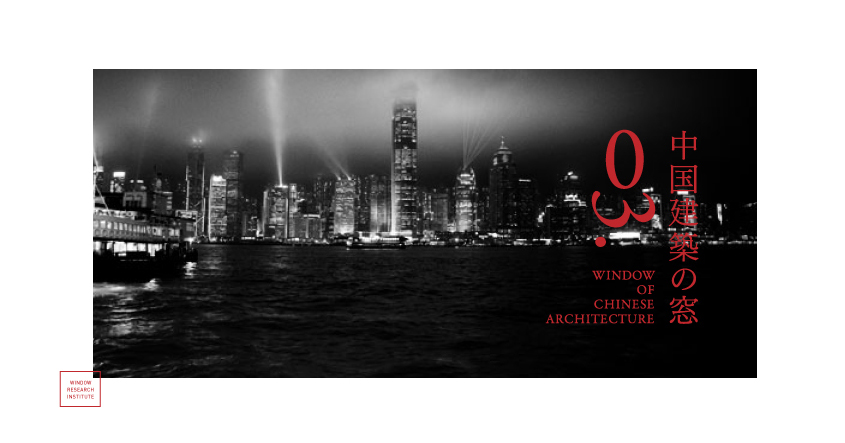 08 Mar 2018
Keywords
The aperture in Japanese architecture is the "ma," or "space between objects." The aperture in western architecture is the "hole." What is it in Chinese architecture, then? This is a study on the as of yet unknown culture of windows in Chinese architecture from classical times to the present day.
In my last article I wrote about the wooden fittings on display at Guanfu Museum in Beijing. They were fittings carved with the intricate decorations characteristic of architecture after the Ming and Qing dynasties, so I thought I would continue my inquiry by writing about fittings prior to that period, which is to say fittings from the Song dynasty, which were introduced to Japan in the Zenshūyō architectural style, but I forgot my materials when I returned to Japan. As such, I will write about this theme next time and instead would like to think about modern Chinese windows. I will discuss three Chinese architects who are relatively famous internationally, and through doing so survey how windows are designed in modern Chinese architecture.
Ma Yansong's Ordos Museum

First, I will discuss Ma Yansong. He is a young architect from Beijing who was born in 1975 and supervises MAD architects alongside the likes of Japan's own Yosuke Hayano. He instantly drew international attention by winning an international competition in Canada, and though he is still a member of a generation we refer to as "young architects," he is involved in numerous big projects. One could say that Ordos Museum, which was completed in 2011, is one of MAD's most exemplary pieces as of this writing. It is a piece of architecture characterized by its shape, which resembles slime with the curves covering its surface, but when one stands before the man-made building site, one feels as though one is looking up at a spaceship that landed atop a small mountain in the middle of a desert. The museum was built in the new Kangbashi District in Ordos City, Inner Mongolia. A huge courtyard acts as the district's axis, the northern edge of which is home to city government buildings, with iconic cultural establishments to its east and west. Ordos Museum stands at the western side of the center of the courtyard. By the way, this new district of Ordos City is known as one of China's prominent ghost towns, and with few people visiting the culture centers and libraries, it is not being used very effectively.
Ma Yansong's Ordos Museum
A large window is opened up on the eastern side of Ordos Museum, as if it were a face greeting visitors who walk the pathway that stretches from the center of the courtyard toward it. If you look closely, you notice that this amorphous window is not made from one large piece of glass, but is made up of numerous small windows which can be opened and closed and have been meticulously divided up. One wonders if it is designed like this because there was a need to provide ventilation through these windows, as it is a design that is slightly off-putting amidst an outward appearance dominated by curves, but when I visited the museum in person the windows were open and being used.
Anyway, when one enters the entrance hall, one finds a seamless curved surface that forms a wellhole style space from wall to ceiling. The space is very bright thanks to the large window one sees when they enter and a skylight that seems to stitch together the space between the walls of the building. The available space is divided up into sections with this large open space at the center of the building and an exhibit hall and offices to the left and right. The exhibit hall section is wrapped decoratively in a white curved wall, and in this membrane, windows (or holes) are opened up, with stairs, elevators, and bridges protruding out and connecting the route through the hall.
Wang Shu's China Academy of Art (New Xiangshan Campus)
Next I will discuss Wang Shu (born in 1963), who is an architect active in Zhejiang province. After becoming the first Chinese person to be awarded The Pritzker Architecture Prize in 2012, a prize considered to be the Nobel Prize of the architecture world, Wang Shu might perhaps be relatively well known even in Japan. As is apparent in Ningbo Museum(built in 2010), a characteristic of his is to randomly stack multiple materials like stone, brick, and tile on top of each other for the exterior design of his buildings. These materials are old ones that have been discarded in the process of city development. Wang Shu is critical of the abrupt urbanization that has come with economic development, and this exterior design is a clear expression of that stance.
Wang Shu's China Academy of Art (New Xiangshan Campus)
China Academy of Art (New Xiangshan Campus)

Wang Shu singlehandedly designed a huge, approximately 53 hectare wide landscape that included small mountains and rivers along with 17 new buildings for the China Academy of Art (New Xiangshan Campus) (2001-2007). The exterior design we see at Ningbo Museum was used again in the planning of the new buildings, and the influence of the curved roofs that were used in traditional Chinese architecture can be seen here and there. The design of each individual building is subtly unique, and if one were to look at the campus as a whole, one would get the impression that it is an exhibition displaying pavilions that different architects worked on. Also, the designs of the areas around the apertures are unique and very colorful indeed. There might be a line of windows linked horizontally with tiled eaves above them, or many windows of different sizes bored into the walls, or a curtain wall with concrete louvers stretched over them, or wooden double doors that open out into the courtyard.
China Academy of Art (New Xiangshan Campus)
China Academy of Art (New Xiangshan Campus)
China Academy of Art (New Xiangshan Campus)
The exceptional degree of freedom at play in the design of these windows is probably due to the influence of the culture of the region's garden architecture. Wang Shu has been heavily influenced by the gardens of the literati of the Jiangnan region. For example, the buildings on this campus are in some places linked by corridors, but the entrances to these corridors are holes that have been twisted violently. One can presume that this is probably so that they play the role of a "doumon." In my first article, I mentioned that the gardens of the literati had gates that were uniquely shaped called "doumon." In literati gardens, each garden space is its own small, complete world, and the "doumon" between these spaces each had a unique shape in order to shift the visitor's state of mind when they move from one garden to another. Wang Shu wrote in an essay that each building is a "world" of its own, so one might conclude that this is why he made such irregular shapes of the holes through which one passes from one building into another.
Liu Jiakun's Luyeyuan Buddhist Sculpture Museum

Lastly, I will discuss Liu Jiakun (born in 1956), an architect who works primarily in Sichuan Province.  He is a member of the first generation of architects to receive an education in architecture after the chaos of the Cultural Revolution came to an end. Upon graduation he was appointed to the government run "Design Institute" where he began his career as an architect, but during this time it seems he was exploring various modes of expression by writing novels or working in an art studio with his artist friends. In the end he presided over the studio as an architect, and in the year 2000 opened up an office in Chengdu, the provincial capital of Sichuan.
One of Liu Jiakun's characteristics is the fact that he has always worked in western China. His base of operations is in Chengdu, but his work from when he was working for the "Design Institute" can also be found in Tibet and Uyghur. The western side of China, which is also the inner continental region, is not all that advanced economically compared to the eastern, coastal side. This places limitations on what materials can be used as well as what techniques can be put to use. Liu's attitude, in which he accepts this environment as an asset rather than a hindrance and creates designs while ascertaining the conditions of the construction site with care, is what is referred to as so called "Critical Regionism," a phrase coined by Kenneth Frampton, which means to harmonize the regional character with modernism. In fact, Liu, who studied in an environment with few documents concerning foreign architecture, took it upon himself to study Luis Barragán and Tadao Ando, both Critical Regionalist architects.
Luyeyuan Buddhist Sculpture Museum
Luyeyuan Buddhist Sculpture Museum (2002) was built in a suburban forest, an hour and a half long bus ride from Chengdu city. From its outward appearance it is difficult to locate any windows aside from those at the entrance, which one reaches after crossing a lengthy stretch of bridge. Due to this, it presents itself like a stone carving lingering amidst overgrown trees, but light is allowed inside through skylights and thin slitted windows.
Of particular note is that these slitted windows are perfect for creating an atmosphere appropriate for displaying the old Buddhist statues of Luyeyuan Buddhist Sculpture Museum. The items of the exhibits are placed in niches in the walls and these niches protrude out from the building when viewed from the outside, the crevices between which are thin, slitted windows. In the dimly lit space inside surrounded by stone, the natural light that pours in through these slits rebounds off the white walls of the niches, illuminating the exhibits with a sublime aura. The contrast between light and darkness creates a dense quality to the space that one can say borrows directly from Ando and Barragán.
What These Three Different Styles Reveal
Each one of them has their own distinct touch, and that is no different with their window designs. If one were discussing Japanese architecture, one could probably point to a trendy design such as the "potsu" window, a design style where windows are scattered randomly across the surface of a building, but in China there is almost no such design one could call "mainstream."
In China, due to the sheer geographical size of the country, there are many different climates, with many architects studying in different countries all over the world. In other words, one can say that the range of different backgrounds from which architecture is born is the root cause of this situation.
However, it is fascinating to note that Chinese architects, with their various backgrounds, share in common that they are concerned about the tradition and regional character of the location at which they work.
Looking at the three architects I discussed in this article, one would be hard pressed to find a characteristic common among them, but each of them displays consideration for regional character and tradition from their own point of view, and they show that through their work. Wang Shu is the most obvious on this point. His ideology, which shuns urbanism and embraces the rural, is that of someone knowledgeable of ancient Chinese classics, and one can even see the influence of literati gardens in his architectural designs. Ma Yansong also, despite designing futuristic buildings, goes out of his way to make use of the likes of landscape art and the spatiality of Siheyuan traditional Beijing residential architecture. That said, in stark contrast to Wang Shu, Ma Yansong pronounces enthusiastically that architects should participate in urbanization, perhaps because he works out of Beijing, the center of Chinese political power since long ago. Liu Jiakun pays respect to the precise conditions of widely variant regions, including their environments and traditions, rather than the larger concept of "tradition" that Wang Shu and Ma Yansong advocate. This is Liu's unique method for working in inner continental China, a region that is behind in terms of economic development, where the influence of globalism that affects large cities does not reach.
If one were to sum all of this up, one might say something like this: The activities of Chinese architects appear on the surface to be very different, but at their core they are connected by their strong interest in regional character and tradition. However, reflecting the vastness of China geographically, the concepts of regional character and tradition are exceptionally diverse, so they ultimately each reach a different form of expression from one another. One could probably safely describe the current situation of Chinese architecture in this way.
Kouji Ichikawa
Born in Tokyo in 1985. Currently he's in a doctorate program in Tohoku University's Engineering Research Department. His research topic is the theory and history of pre-modern and modern Chinese architecture. He is the editor in chief of the amateur architecture magazine "Nemoha."