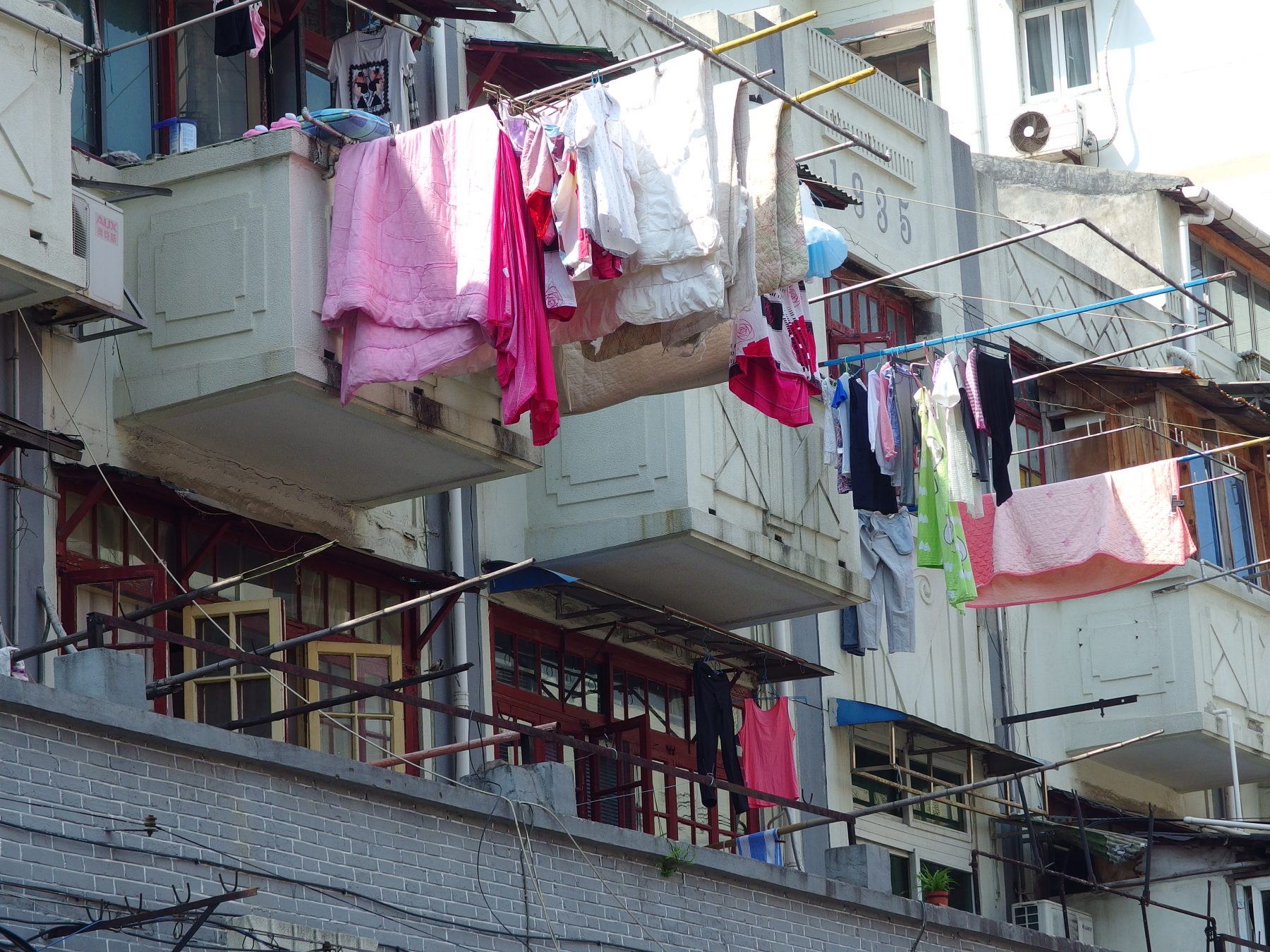 21 Sep 2016
Keywords
My steps become lighter now that I've decided what I'll look for. This is the beginning of a trip to search for bars of iron. Ten steps out and I find what I'm looking for. Immediately I discover a housing complex with countless iron bars sprouting from it. I'm a little concerned that those bars might fall onto the few cars parked directly under them.
Cars parked under numerous iron bars.
These bars, covering various buildings like a soft hair, are in fact designed to dry one's laundry on. Clothes are hung out to dry in Japan, too, but, compared to what someone might see in Japan, there is something a little off: it is common for Japanese to hang laundry poles parallel to their balcony. But here in Shanghai they seem to be sprouting from windows, almost 2 meters long.
The reason for this, I imagine, is the lack of balconies on buildings here in Shanghai. This shortage is emblematic of Shanghai's high land values coupled with their shortage of land. A student I met from China at one of the places I was staying told me that such scenery could only be found in Shanghai. This is scenery born of the metropolis.
Bars also sprout from low-rise lilong residential buildings.
In what way are those bars sprouting up from buildings? I decided to take a little closer look.
Basically, as can be discerned from the photo below, a square-shaped metal bar is attached directly to the exterior wall below the window while and suspended by wires extending from the wall. If you look at closely you will find a variety of types and lengths of bars, which leads me to think that the residents themselves made them. They can hang nearly five iron or bamboo laundry poles on these square-shaped bars. It makes sense: this is the only way you can hang laundry from your window.
Installation of the iron bars.
As I continued walking I came across a housing complex with balconies attached. I expected a sight similar to that which I might see in Japan, but this wasn't the case; here, too, were bars of iron sprouting from balconies. It looks like this is just the Shanghai-style of drying laundry. Large housing complexes and low-rise residences alike, windows in Shanghai are adorned with iron bars and laundry.
From the veranda, even more sprouts.
At any rate, the presence of laundry is overwhelming. There are vibrant-colored beds and clothes everywhere—for some reason there is a lot of pink—, and underwear is just flapping around. Anything goes. This might have something to do with the necessity to assert myself in order to live that I was faced with soon after arriving in Shanghai.
Eventually, laundry begins to jump out from windows and occupy trees lining the streets. Drying laundry by strapping ropes to these trees without thinking twice about it – hanging there, the laundry looks light like notes on a musical score; there's a certain charm to them that makes me feel things are as they should be.
Laundry hanging on trees like musical notes.
It is this image of iron bars sprouting from windows that might be called Window Scene in Shanghai, representing both the housing situation and the character of its people.
When you come to Shanghai, stop walking and look up into the sky. There, you'll see the wonderful world of laundry, and under that, the life of residents expanding from the side of a window. Light will pour onto you from between the overhead laundry.
When you stop and look up towards the sky you will bathed in light pouring through clothes.
Ryuki Taguma
Taguma was born in Shizuoka prefecture in 1992 and grew up in Tokyo. In 2014, he graduated from the Department of Architecture (Creative Science and Engineering) of Waseda University. He received a gold medal for his graduation project in architecture and received top recognition for his graduation thesis. From April 2014 he began life as a graduate student in architectural history, studying under Norihito Nakatani. In June of 2014 he proposed a restoration plan for residents of Izu Ōshima for a sediment-related disaster. This would become his graduation project. In 2015 he took a year off from school to travel around villages and folk houses in 11 countries in Asia and the Middle East, visiting countries from China to Israel. In Yilan County,Taiwan, he worked as an intern at Fieldoffice Architects.