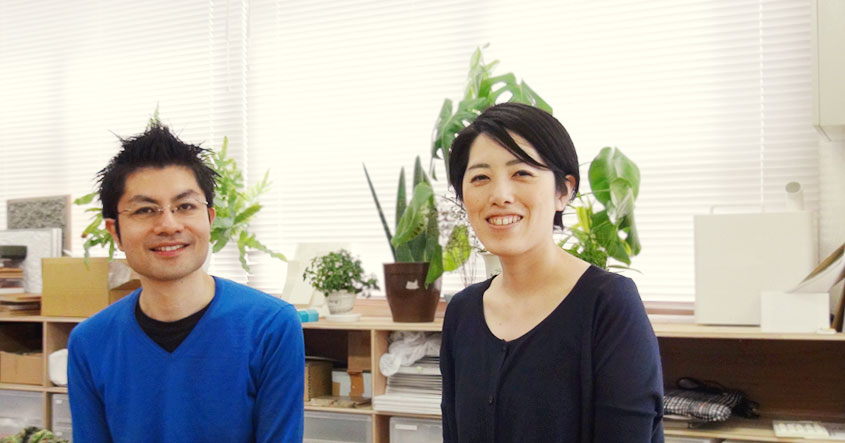 Window and Sharing (Second Half)
24 May 2013
Keywords
Interviewed are now widely noted architects, Yuri Naruse and Jun Inokuma, who are well known for their project on the theme of "sharing." The talk is centered on the role and enchantment as well as a challenge of the window creating a feel of sharing.
Improved performance of window changes scenes
Naruse: I heard that on account of increased heat-shielding properties, architects engaged in design in Tohoku region felt eased in window installation.
Inokuma: It means that if a room has a large window opening, the indoor space is not so rapidly cooled down as was before.
Naruse: Since it is cold in Tohoku region, it was hoped before that much solar light had better be taken inside; however, the window had to be reduced because of the coldness. Now, it can be taken wide for much larger solar light since the window frames and sashes are of resin type and have high heat-shielding performance. Consequently, it is made easier to build a house having large windows wider opening to outside. In essence, in old days the windows in the Tohoku region was small, but now can be taken wide to ease the correlation with outside. Once I heard such a story of fact finding.
Inokuma: The improvement is splendid. It means that the improved performance of the windows is changing scenery of a town.
Naruse:Now you should note this "Riku-café" having a considerably large window.
Inokuma:It is very warm. The attendants are very happy. Those aged women engaged in the operation frequently say that this place is much warmer than their own places.
Naruse: After all, if the window was an old type, inside activities would be seriously restricted due to cold inside atmosphere. Such warm inside atmosphere is enabled by the improved window members.
It is interesting for landscape to be shared by opening the window
Inokuma: I wish there were a gentle connection with outside from the premises or inside a building, such connection being visually natural. Traditionally, so-called townhouses have been formulated for a long time. Typical example may be a latticed window. As can be seen from it, in the townhouse, "a sensitive feel of good distance" has been gradually fostered as rooted on the way of living or urban structure.
Such connection root has been neglected in the 20th Century. Instead, certain area of floor is desired, then, roads, huge condominiums and office buildings were erected one by one, gradually changing an urban area. Here, roads and buildings were located without regard to the gentle connection.
Nevertheless, it is interesting if the improved window assembling technologies change an opening method of building and if the roads are gradually correlated with building allocation style in the 20th Century.
I think it ideal if without looking back the past and beyond the past period where massive volumes were already unfortunately erected, the modern correlation with outdoor environment is vividly revived through the windows and extending to the whole townscape.
Naruse: As the performance advances, the window can be opened widely; however, housing closes it windows to the town. Almost all residents consider their own housing separate from the rest. If these windows are opened, the residents feel gradually as if the neighboring lot is somehow related to themselves. I think it wonderful that if the windows open one after another, they further unconsciously feel as if outer surrounding also is related to them, so that all residents feel themselves form the town.
Now, public spaces are left to the hand of city authorities. In this connection, all citizens believe that they pay taxes, but owe not more than that. In reality, the era has been changed. If they have conscience to improve their own town, it will become more enchanting townscape and lively place. To foster such consciousness, the window will play an important role. I do not think it is all right if the windows simply open. How a building or housing should be in the town would be changed depending on changes in windows. In this sense, I wish there were something which would influence on the town development or consciousness.
"My Best Window" remaining in my memory
Inokuma: The first opportunity which gave me such a concept as window coupled with outside scene was given by Mr. Richard Neutra, an American mid-20th century architect and whom I selected as research subject for my graduate course thesis. He was in the major stream for modernism in U.S.A. Centering on housing projects, he was proud of the space composition with a feel of release. Soon after the search work, I started to notice a fact that he assembled and set furniture at a large opening and made it a part of his architecture.
For instance, his design frequently uses such arrangements: a sofa is installed abutting on a window, a shelf is in combination with a window, and a bed abuts on a window. Within a single room, a window side is made to be especially elaborated space. The remaining space is made to a free space where the occupants freely lay out or replace furniture. Really, the window side alone was elaborated in a conscious way. I was absorbed in trying to find for what reason he did so. The window side is usually one recess in a room as far as one room is concerned. Whatever recess, outdoor scene and inside scene are in combination in his image, his design being developed centering on the recess; therefore, his design is very interesting.
To think over again, my interest of adjusting the outdoor and indoor through the window and the window side would date back to those dates.
Naruse: What is vividly memorized In my mind is still the windows in classrooms the primary school or high school. I sometimes looked at a scene out of the window. At the time of whole class seat change, I was eager to take a window-side seat. It is sunny and hot, but commands a good view of playground activities. In the school I attended has no balcony, but has wainscot of wood paneling. When I felt comfortable, I was seated like this while keeping the window open.
I was looking at classmates doing gymnastic play and at teacher walking on a roofed connecting corridor. Though I was looking at these scenes during the ordinary classroom lesson, I felt like enjoying my time. My favorite seat was where my spine is directly supported by a pilaster like this. I moved my desk tightly to the window without any gap. The window sill was located around my elbow. These are my images of the window. As a consequence, I usually lose my concentration at a lecture hall having no window.
At break between the lessons, I usually walked up to a window when I was not in a group. When I was seated not on the window side at break, I felt nervous. But, window-side classmate did not move out in many cases.
"Window blows life in architecture"
Inokuma: For what purpose the window exists. The same qustions arises with regard to townscape and indoor activities. Where the windows are thoughtfully formulated, the window side and surroundings are made lively. In this sense, the windows are considered vitally important.
Where a space is discontinued, broken parts cannot be converged imerginably or otherwise. A windowless building would be gloomy unless considerably elaborated. If windows are provided on that building, it would become unexpectedly lively in that they are linked with outdoor scenes, they are bathed with sunlight and subjected to wind.
The moment the building becomes lively will be when its window is opened. Eventually it links in varied senses to urban level, townscape level, dily living level and human relation level in common with each other.
Though it is frequently talked about, a living thing has, without exception, holes to breathe, look at things and eat something. In a similar sense, I like very much such concept that a dead box revives again when a hole is provided on it. It resembles people's living and life style of town place. To make a lively space, a window is an important key.
Jun Inokuma (Architect; Tokyo Metropolitan University, Ass. Professor; Naruse+Inokuma Architectural Design Office)
Born in 1977. Completed Tokyo University, Graduate Course. Succeedingly, entered Chiba Gaku Architectural-City Planning Office. In 2007, established Naruse+Inokuma Architectural Design Office. From 2008, Tokyo Metropolitan University, Ass. Professor.
Yuri Naruse (Architect; Tokyo Univesity, Ass. Professor; Naruse+Inokura Architectural Design Office)
Born in 1979. Completed Tokyo University, Doctor Course (obtained all required credits, but retired); Established Yuri Naruse Architectural Design Office, and, in 2007, Naruse+Inokuma Architectural Design Office. From 2009, Tokyo University, Extraordinary Ass. Professor, and from 2010 Same University, Ass. Professor
Naruse+Inokura Architectural Design Office
In addition to architectural design, engaged in the design for industrial products, landscape, township and other various objects. Recently, engaged in the promotion activities on sharing in place and establishing a new space consolidated with new unit and the design for co-working space sharing house and community café. Contributor for "House Vision Tokyo Exhibition 2013" (http://house-vision, jp/exhibition.html) Now promoting "Living Project for Township" in Rikuzen-Takada (http://rikucafe.com/)
Won "International Architecture Awards 2009," "Design for Asia Awards 2009: Merit Recognition," "Good Design Award 2007″and many others.
The home page for this office: http://www.narukuma.com/