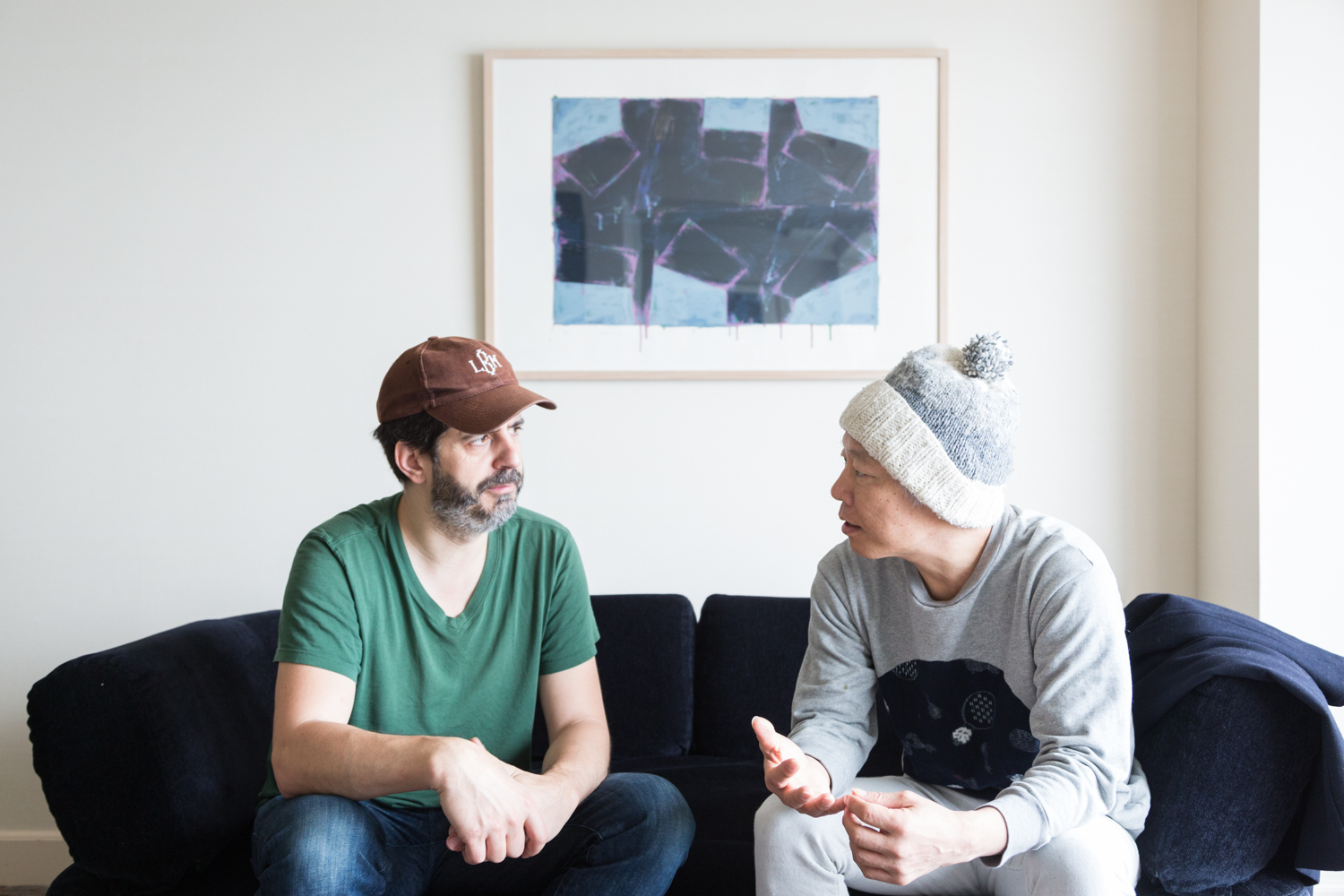 06 Jul 2016
Alec Soth, who has taken many photos of "windows" in various parts of the world, and Takashi Homma, who has speculated on the relationships between windows and photos. The two state-of-the-art photographers in Japan and the U.S. discuss their unique theories of photography, under the theme of "windows", from Robert Frank to Instagram.
Takashi Homma (hereinafter referred to as Homma): Window Research Institute and I are working on the research project about windows (Windowology) and we would like to talk to you about that. It was impressive that you had an exhibition in Japan, with the theme of "portrait by a window", in February 2016. And what I'm interested in your series from the hotel windows. I love this series. The very first picture I saw in this series is the picture in a hotel room which is the same position as Robert Frank had taken before. Would you tell me the background of this picture?
View from hotel window – Butte, Montana, 1956
© Robert Frank, from The Americans
Alec Soth (hereinafter referred to as Soth): Well, yes, so my all-time favorite photograph is that picture of  a mining town, Robert Frank's view from the hotel window in 1950s.
© Alec Soth / Magnum Photos
Homma: Where is it actually?
Soth: Butte Montana. Anyway, my love of that picture is that it explains the philosophy I have about photography, which is that it's as much about the person photographing as it is the world out there. So it's as much about Robert Frank and his experience travelling as it is about Montana. And so I did revisit that, that hotel, and found that window. And then just as a sort of play on that picture, on Instagram whenever I travel I take a picture from my hotel windows.
Homma: That his photography, it is in "The Americans" (1958). How did you get there exactly?
Soth: Well I just went, I mean I figured out which hotel it was and then I asked the people at the hotel. I wasn't the first.
Homma: So you know the first photographs in the early 19th century, by Joseph Nicéphore Niépce, a photographer is always very strongly concerned about looking through the windows.
Soth: Yes, absolutely. I mean it's a series of windows. They eyeballed the window, I mean, this is actually a window, then the glass on the lens is another window, as this glass – it's a series of windows and reflections.
Homma: Eyes, camera, window. A lot of layers.
Soth: A lot of layers, yes. And that's for me where photography is this medium that's about grabbing after the world, but it's also, there's a distance involved in it. There's always a separation and one of the reasons that I photograph windows a lot is that it's a metaphor for that desire to both possess the world and be separate from it.
Homma: Your exhibition in Japan has a lot of reflections. We did research about the window photography, like by the window, then sometimes…
Soth: From the outside.
Homma: From the outside. And then, reflections, and also through the window. So there are several ways.
Soth: Yes, absolutely.
Homma: So not only hotel windows – do you photograph through the window by yourself in your own house?
Soth: Not in my own house because I am not…
Homma: It's not photogenic.
Soth: Unfortunately, I'm just not good at photographing in my own home. So, no.
Homma: It's important to travel around…?
Soth: It has been important, yes. I want to change that, but I'm just not very good as a home photographer. So – I think part of it is I need that, a certain kind of separation to see the world and if I live it – it's like if I photograph my child I know everything about my child. And so I can never see the photograph disconnected from my child.
Homma: Do you find any difference through the window photographs, like from the reflections and from the windows?
Soth: Yes. It's quite different. Let's see. In terms of – and there is a connection between through the windows and reflections, though. So you know John Szarkowski who used to be a curator of photography in MoMA, had this famous book "Mirrors and Windows" (1978) and he's sort of making this dichotomy between these two approaches, to photography. One is looking at yourself, one is looking at the world. But my belief is that a window is also often a mirror in that it's semi-transparent, it has a reflection. In a reflection you see yourself, and so there is a spectrum between a mirror and a window. And so reflection in photography very often has that quality where you are looking out but you're also looking in.
And there's the kind of the famous sort of through the window picture to me, even though there isn't an actual reflection here, I feel it's also looking in. There's an awareness of being in a room, in part because there are curtains. This approach of being totally outside looking at windows, that's more about voyeurism. And to me, that functions more as a metaphor for the desire to see something you shouldn't see, voyeur, something private.
Homma: Okay.
Soth: And I also think that Josef Sudek's series of work since 1940s, "Window of my studio", is a great example because in his case, what you experience in these pictures in particular is this, the cold outside, but you feel the warmth of the room that he is in. And it's that juxtaposition that makes for the power in the picture.
Homma: Different.
Soth: Yes exactly, yes. Another favorite, one of my all-time favorite pictures is that Ed van der Elsken of the woman with the cast on her leg, do you know this picture? She's like at a ski place and lying in a window and she has a cast on her leg. It's a really a great picture.
© Ed van der Elsken / Nederlands Fotomuseum
Homma: Black and white?
Soth: No, color. Yes, it's such a great picture. I actually wrote about it once. This picture, I love this, yes.
Homma: Ah, I didn't know this picture. Oh, it's strange, we can see the outside and inside very clearly at the same time.
Soth: Yes. There must have been a window behind, it's definitely Paul Fusco's "the RFK funeral train" (1968).
Homma: Do you know this picture? Shizuka Yokomizo who took this picture is a Japanese photographer, based in England. She always puts a letter to someone and says, "please stand at 8 o'clock". So she didn't have any conversation with them.
Soth: Yes, I do, I did hear about it. But I didn't know she was Japanese either.
Homma: Actually, last time for this series of interviews with Window Research Institute, I interviewed her.
Soth: Fantastic.
Homma: So can I ask you a big question now?
Soth: Oh, yes.
Homma: What is the window for photographers?
Soth: For me, it's a way of possessing the world. So when I look at this window here, I can take it in, in a way that if I'm outside it's harder for me because I can't hold the edges, my vision falls off at the side. So I can possess the scene. And it's also a way of separating myself, so that I don't feel the wind, or I don't feel the heat, which is for me, there is sometimes that need to separate in order to hold on to it, in a way that photographs, you can hold on to time by stopping time.
Homma: Oh, I see. So, tell us about these. (They look at the picture taken by Soth) Where is this?
Soth: I want to say it's in Florida. But I think, if I remember correctly, I was on a magazine assignment, but one of the things about Instagram and about our social media is that it's this funny other sort of window in to people's lives. You get to have a little taste of other people's lives. But I want to use it to sometimes show that "look, I am staying in this glamorous hotel", but other times, "look, I'm staying in this – it's a shitty hotel".
Homma: Or like a motel kind of a thing.
Soth: Yes, but these are honestly like the places that I've stayed in at different times. I know that this one was in Chicago, and this was actually before I took a train trip across the country with Billy Bragg, the singer.
Homma: Billy Bragg.
Soth: A musician. So we traveled across the country, and this is the day before we traveled, but it was a very tough hotel. I mean the funny thing about staying here is that I've just been on a train journey in Hokkaido. So I was on 13 different trains. I went to Abashiri, and this really great one, Oshamanbe. I loved that town, small and it's like Minnesota. It's so tough… But so, we were sometimes staying at these small guest houses. So then it was cold, sometimes it was very cold. You would have a small heater in your room. And so then I arrived here. It was good, it was great.
Homma: Where is this?
© Alec Soth / Magnum Photos
Soth: That's Tokyo. That's in the Park Hyatt in Shinjuku.
Homma: Okay. Just like Sofia Coppola's film, Lost in Translation (2003).
Soth: Lost in Translation, exactly.
Homma: This looks like the film Her (2013).
Soth: Absolutely. I love that film. It's Spike Jonze. It's a great film. What's interesting is that Lost in Translation and Her are very similar.
Homma: Yes, I know.
Soth:  These two films I'm sure are related. And I mean they are both connected to this experience of being removed from society a little bit.
Homma: Okay. That's interesting observation. Sometimes you do take the picture of yourself too.
Soth: Yes. So I mean I've always avoided self-portraiture but when I started with Instagram, I suddenly, like everyone I had the desire to photograph myself and this frustration with this desire. So I did this series of "unselfies", where my face is obscured. But for me it's like a battle. A battle designed to show myself being unhappy, that I want to show myself.
Homma: Ah, okay, interesting. So can I take your portrait by the window?
Soth: Of course. Should I sit like Scarlett Johansson?
Homma: Like her, yes.
Takashi Homma
Photographer. Born 1962 in Tokyo, Japan. Held his first solo museum exhibition, New Documentary, in three museums in Japan from 2011 to 2012. Has published numerous photography books, including Tanoshii shashin: Yoiko no tame no shashinshitsu (Tokyo: Heibonsha, 2009) and Tanoshii shashin 3: Wakushoppu-hen (Tokyo: Heibonsha, 2014). Currently a guest professor at the Tokyo Zokei University Graduate School.
Alec Soth
Alec Soth (b. 1969) is a photographer born and based in Minneapolis, Minnesota. He has published over twenty-five books including Sleeping by the Mississippi (2004), NIAGARA (2006) Broken Manual (2010) and Songbook (2015). Soth has had over fifty solo exhibitions including survey shows organized by Jeu de Paume in Paris (2008), the Walker Art Center in Minnesota (2010) and Media Space in London (2015). Soth has been the recipient of numerous fellowships and awards, including the Guggenheim Fellowship (2013). In 2008, Soth created Little Brown Mushroom, a multi-media enterprise focused on visual storytelling. Soth is represented by Sean Kelly in New York, Weinstein Gallery in Minneapolis, Fraenkel Gallery in San Francisco, and is a member of Magnum Photos.