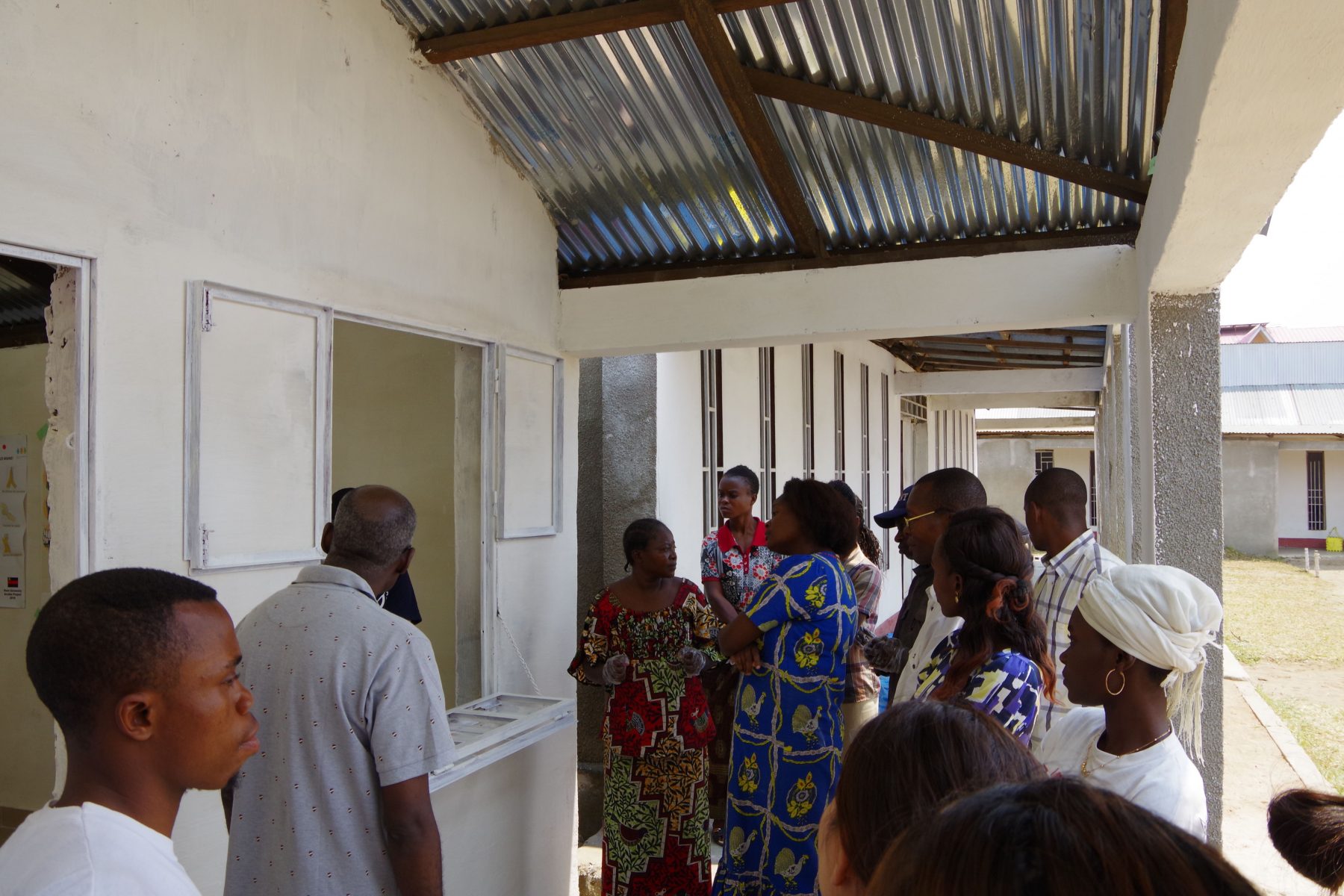 21 Dec 2017
Keywords
Part 3 of "The Joys of Making Windows", the serial article by Hiroto Kobayashi Laboratory at Keio University SFC, introduces a project of making windows at an elementary school in the Democratic Republic of the Congo, Africa. What kind of windows did the project team come up with and make in collaboration with the teachers and children, as opposed to the existing iron lattice windows that cannot be opened?
After loading our suitcases into a van, we were amazed to see the view from the car window that was quite different from our preconceived image of Africa. The Democratic Republic of the Congo is situated in the central-western part of the continent of Africa. Kinshasa, the capital city of the Congo, has a population of 9 million concentrated in an area equal to approximately half of the area of Tokyo. Seeing a number of high-rise buildings lining up along the streets and imported luxury cars speeding down the paved roads, one may never imagine that this is an African city.
After a two-hour drive from the capital, cityscape changes drastically. The district of Kimbondo in the outskirts of Kinshasa, where Academix Elementary School is located, offers an expanse of scenery that coincides with our image of Africa. Since 2008, we have been visiting this place every year to implement educational and medical programs as well as continuing construction of one classroom building per year, with an aim to provide opportunities for children of the Congo to develop their potential in order to live the live they deserve.
Vivid greenery of mango and papaya trees. The endless sand plateaus. The vibrant energy of people's daily life spreads through magnificent nature, while the great river of time flows through it slowly and peacefully. During the day, the streets are filled with people coming to local shops to buy daily goods and groceries including vegetables, fish and freshly butchered meat. After dark, people gather and talk the night away, while enjoying beer and African music. As the dawn breaks, one can hear animals begin calling through the silence.
Most houses in Kimbondo are made of concrete blocks with mortar joints. Many of them are built using a very simple construction method of laying blocks on concrete foundations and building a roof made of corrugated galvanized steel sheet on top.
The window of this building is fitted with an iron lattice for security reasons.  The fixed lattice physically isolates the interior from the outside world. One can see the other's face through it, but the iron lattice always stands in the way. It reminds one of iron lattices of a prison.
Windows at elementary schools are no exception. All windows are fitted with rigid iron lattices. When a child looks out of the window, an iron lattice always obstructs his/her view. Open a window to feel the wind. Open a window on a sunny day. Open a window to enjoy the view outside. Such actions do not happen here, because the rigid iron gate permanently remains in front of the window.
Open a window. The action does not simply signify a physical movement of open/close. It connects one person to another, people to nature, and the inside and outside of a building. One wakes up and opens a window every morning. One opens a window after the rain. One opens a window when a friend comes to visit. The act of "opening a window" enriches our daily life.
With such thoughts in our minds, we conceived a window offering a pleasure of "opening a window" for the nurse's office, designed and constructed in 2016. We wanted to make a window that opens outward without an iron lattice attached outside. Our window making started from this idea.
In order to ensure security while creating a warm impression, we designed a window using plenty of wood. Students from universities in Japan, teachers at Academix Elementary School, and children from Kimbondo collaborated to cut out each component from a block of wood and paint it in the color of their respective countries.
The components were assembled completely by our hands from the beginning to the end. All the people got together to make one window. By making a window, people got connected to others whom they normally do not have chances to interact with.
People encounters something different each time they open the window. They will never know what kind of scenery awaits them until they open it. Our intention was to present the pleasure of opening a window to children and teachers at Academix Elementary School and people of Kimbondo.