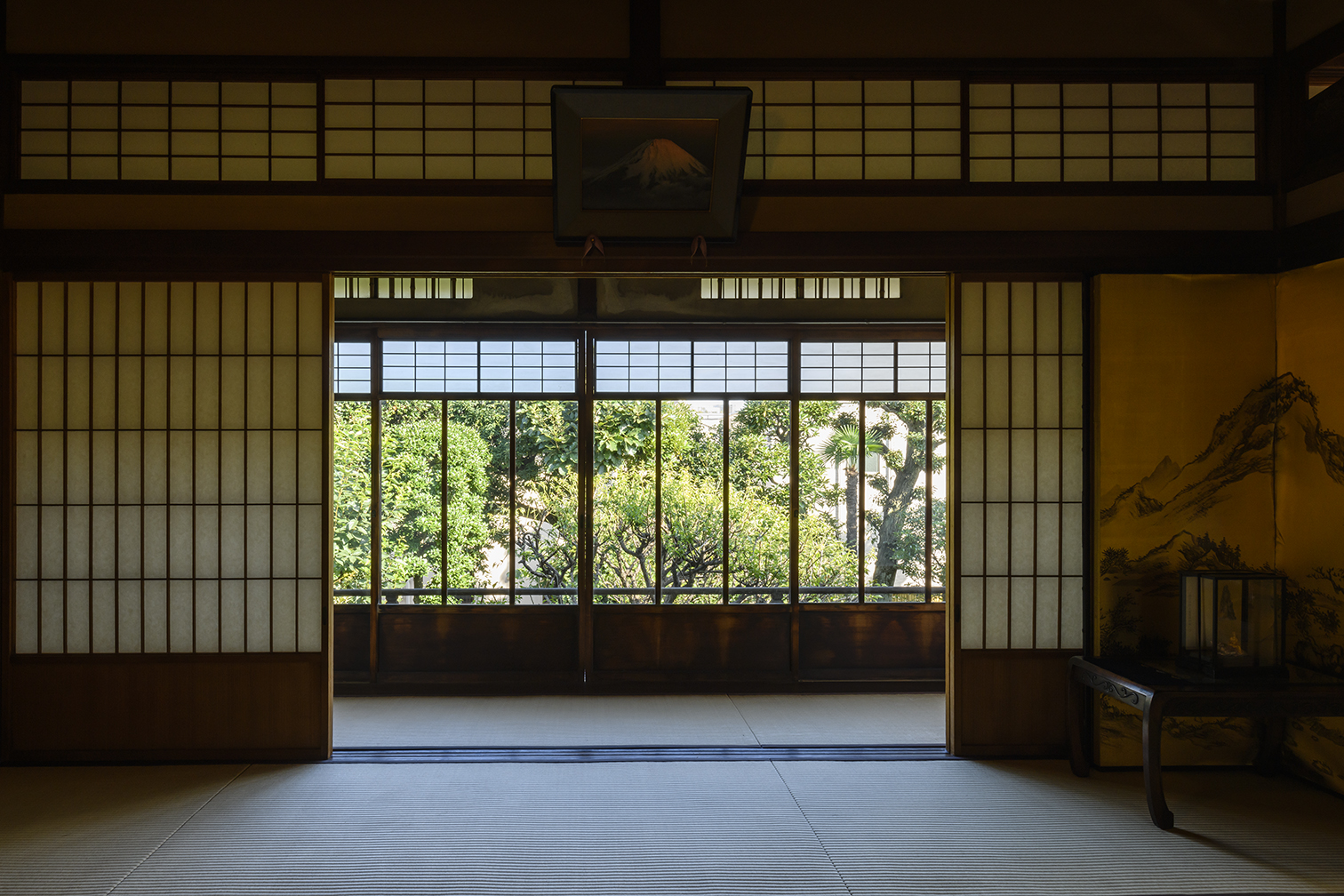 09 Dec 2021
Keywords
In this series, architectural historian and architect Terunobu Fujimori, who has traveled extensively to study buildings of various times and places, will be introducing a selection of notably intriguing windows found in historic buildings from all across Japan, one at a time. First on the list are the glass doors (garasudo) of the Hirano Residence designed by Katsuya Yasuoka, who built his name as a house designer during the Meiji to early Showa era (early to mid-20th century). While such doors are now a staple feature of Japanese-style houses, those of this house were among the earliest to be used.
Anyone, whether from Japan or elsewhere in the world, will undoubtedly think of glass rather than frames or curtains when they hear the word "window".However, it took a long, long time from when glazed windows first appeared in ancient Rome for this to become true in Japan, for although Japanese people were familiar with glass used in crafts, they had neither the knowledge nor technology necessary to produce plate glass for use in windows. It was only amid Japan's increased interactions with the great Western powers during the late years of the Tokugawa shogunate's rule (1603–1868) that window glass was finally brought into Nagasaki, which was the only Japanese port open to foreign trade at the time.
One of the first places it was used was in a dining hall for Dutch traders at the Dutch factory on the island of Dejima in Nagasaki Harbor, where glass doors made using many panes of glass were fitted into what essentially was a traditional wooden building. Shortly after that, in 1859, the shogunate, which had only permitted the Netherlands and China to trade at Nagasaki throughout the Edo period (1603–1867), at long last opened its ports to the world in places such as Nagasaki, Yokohama, and Kobe. Traders from various Western nations soon arrived in Japan as if they had been longing for the moment and began erecting trading houses and homes one after another in the foreign settlements established nearby the opened ports. These buildings were designed in Western styles and naturally used glass windows. Famous examples still standing include the Glover House (1862) and Ort House (1865 or 1866) in Nagasaki.
This was how window glass made its way into Japan, but its points of entry were still singularly limited to the Western-style buildings used by foreign nationals in the foreign settlements. Yet it was from there that it went on to spread throughout the country. It made its first step when it was installed in the new government offices, factories, barracks, schools, and banks constructed by the fledgling Meiji government, which looked to Europe as its role model.
Then, with the second step, it worked its way into the living spaces of ordinary people. If you look into what ordinary people in the early Meiji era did with plate glass when they got hold of the precious material, you will find that they fitted it into their roofs to brighten the rooms they used most. At the time, ordinary homes were mostly ceiling-less, single-story buildings, so if one switched out roof tiles for glass, sunlight would have shone directly into the typically dark and humid doma [earthen-floored vestibules used for cooking and other household work] and other living spaces. If you look at records of a housing survey conducted by Tokyo Prefecture in 1881 for the purpose of drafting fire-prevention policies, you will find mention of a roofing material of less than one square meter that is described as "glass roofing" ("garasu-buki"). What this is referring to are these windows. They can also be spotted as small square panels on the tiled rooftops captured in a photograph of the Kanda district shot from atop the Nikolai-do (Tokyo Holy Resurrection Cathedral) in Meiji 21 (1888).
So, it was about 140 years ago from today that architecture's secret technique for admitting light whilst keeping out the wind and rain finally made its way from ancient Rome to the Japanese archipelago and started being used to deliver sunlight into ordinary homes. These windows that we call "tenmado" [lit. "heaven windows"]—rather overdramatically compared to English's "skylights"—reflect in their name the gratefulness that people at the time felt for the single panes of glass. It was with the subsequent step, the third step, that glass came to be used in regular glass windows. As an architectural historian, I would be remiss to leave you picturing European-style windows made by cutting out tall, rectangular openings in walls. This is because at that time during the Meiji era, there were still only a dozen or so Japanese families in the entire country that lived in Western-style mansions. They were, for example, the Imperial Family, Arisugawa-no-miya Family, and Sumitomo Family. However, there were several hundred to even a thousand or so residences that had Western-style annexes. These included the Iwasaki Residence, Mitsui Residence, and Tokugawa Residence. But even their residents did not live in the Western-style buildings; they instead lived in adjoining, more spacious Japanese-style mansions and used the Western-style buildings only for entertaining special guests.
So then, how did window glass, which first made its way into public buildings, then skylights, and then the Western-style mansions used for receiving guests, enter the traditional Japanese homes that elites and commoners alike lived in on a daily basis? This was the fourth step. In order to correctly comprehend the fourth step, one must have an understanding of the circumstances that surrounded windows in traditional Japanese houses at the time; that is to say, an understanding about the way the inside and outside of the houses were separated prior to glass's arrival. In contrast to their shallow-eaved European counterparts, traditional Japanese houses achieve the separation between inside and outside across a series of layers. These used to consist of amado [storm doors], engawa [perimeter corridors/verandas], and shōji [paper-covered lattice screens], in order from outside to inside, and enclosed within the shōji were the living spaces with floors covered in tatami [woven mats]. There were no walls between these layers but only columns, which were set in lines along the inner sides of the amado and shōji.
By stowing the amado in the tobukuro [storage compartments for amado] and sliding open the shōji, one could create both a direct visual and physical connection between the inside and outside. However, while providing good ventilation and having an exceptionally modern look, this partitioning system came with one major drawback. On days with strong winds or heavy rain or snow, one could simply shut the amado during the night, but what was one to do to block out the wind, rain, and snow from sunrise to sunset? Shōji were of no use for this, so you had to leave the amado closed even during the day. That was where glass, the magical transparent material that only lets light through, made its entrance. It was inserted along the inner side of the amado, so the sequence of layers, again from the outside in, changed to amado, garasudo [glass doors], engawa, and shōji.
The need to stow the garasudo in addition to the amado not only meant that tobukuro had to be made two times deeper; it also called for a certain level of technique, as garasudo, which are much heavier than amado, have to be slid along grooves in the threshold and then shifted sideways into the tobukuro. It is said that maidservants in large mansions spent all morning opening the amado and garasudo one by one and all afternoon closing them up again. Essayist and ROJO Society member Joji Hayashi has determined when and where Japan's first garasudo that were designed as thin panels like amado were used someplace other than the Dutch factory. It was in Meiji 2 (1869) at the Barber Fujidoko, a Western-style barbershop in the foreign settlement in Yokohama, which had garasudo that were styled for its foreign customers.
Once window glass deftly succeeded in entering traditional homes with the fourth step, it would continue to support everyday life in Japan from the Meiji, Taisho, and early Showa eras through to the end of World War II in 1945. I would like to end by presenting an example of one such house. One could choose almost any house built before the war, but here I will discuss the Hirano Residence (Hirano-tei; formerly the Komanosuke Asada Residence) designed by Japan's first house designer, Katsuya Yasuoka.1   Built in Taisho 11 (1922) in a pleasant residential neighborhood in Tokyo, the residence is composed of a large Japanese-style mansion and a smaller Western-style mansion. Asada, who founded a publishing business (Chuokoron-sha), lived in the two-story Japanese-style mansion and used the two-story Vienna Secession-influenced mansion as his office and for receiving guests. Although not grandiose, the residence also had a storehouse and teahouse and was certainly well equipped.
As you can see in the images, the second-floor family living room and second-floor drawing room are both tatami-floored rooms enclosed by shōji, engawa, and garasudo. There are of course also amado that slide out along the outer side of the garasudo. The shōji and engawa have slight differences between the first and second floors. On the first floor, the shōji have small central glazed openings, and on the second floor, the engawa has been lined with tatami along its inner edge to create what is known as an irigawa [a corridor between the nure-en (an exposed engawa) and inner rooms].
The garasudo on the first and second floors may appear to be the same at first glance, but if you look carefully, you can see that those on the second floor are more intricately built. Also, unlike typical garasudo that are fitted with wide panes of glass, here the garasudo are made with tall panes to reflect the aesthetic of the neighboring Secession-style building. This is the same reason why the first-floor shōji have wide cells in typical fashion, while the second-floor shōji have unusually tall cells. As illustrated by these garasudo and shōji, the two types of screens designed to separate the inside and outside contributed greatly to adding a richness of expression to traditional Japanese wooden houses.
Notes
1 :Katsuya Yasuoka. Born in 1877. Died in 1942. He studied architecture in graduate school at the Tokyo Imperial University before working at the Mitsubishi Company Marunouchi Architectural Office. While there, he designed the buildings of Tokyo's Red Brick Office District in Marunouchi by picking up on the work of his predecessor, Tatsuzo Sone. After starting his own practice at age 35, he went on to build his reputation as a house designer through designing numerous houses and gardens in addition to banks and retail buildings. Extant works include the Former Mitsubishi Company Karatsu Branch Office Main Building (Karatsu, Saga, 1908), Former Daihachijugo Bank Head Office (Kawagoe, Saitama, 1918), and Former Yamazaki Residence Villa and Garden (Kawagoe, Saitama, 1925).
View of the Japanese-style mansion from the garden.
First-floor garasudo and shōji of the Japanese-style mansion.
View of the shōji and garasudo from the drawing room (when closed).
View of the shōji and garasudo from the drawing room (when open).
Second-floor drawing room of the Japanese-style mansion.
The garasudo are fitted with double-sliding frosted windows at the top.
The garasudo are installed between the irigawa and nure-en.
A stile of the garasudo.

A nejishimari [screw-in lock] of the garasudo.
Inner side of the stile.

The clear and frosted glazing.
View of the space around the second-floor openings of the Japanese-style mansion.
View of the tobukuro from inside.

The shōji, garasudo, and amado.
A musōmado [sliding slat ventilation window] built into the amado (when closed).

The musōmado of the amado (when open).
The garasudo are labeled on the plan as "glass shōji" ("garasu seuji").
Project Overview
Hirano Residence
(Hirano-ke Jūtaku)
Architect: Katsuya Yasuoka
Location: Bunkyo, Tokyo
Year Completed: 1921 (Taisho 10)
This work of Japanese-Western eclectic architecture was built as the residence of Komanosuke Asada, the first president of Chuokoron-sha, and it is composed of a half-timbered Western-style mansion and a Japanese-style mansion, which was a later addition. They were designed by house designer Katsuya Yasuoka. The structures on the property, including the teahouse, storehouse, and gate, are Registered Tangible Cultural Properties.
Photo: Exterior view of the Hirano Residence with its Japanese-style mansion (left) and Western-style mansion (right).
* Asterisked titles have been translated from Japanese.
Terunobu Fujimori
Born 1946 in Nagano, Japan. Completed a doctorate at the University of Tokyo (UTokyo). Served as a professor in the Institute of Industrial Science at UTokyo and at Kogakuin University. Currently a professor emeritus of UTokyo, a specially appointed professor of Kogakuin University, and the director of the Edo-Tokyo Museum.
Began designing buildings at age 45. Has authored numerous publications related to architectural history, architectural investigation, and architectural design.
Recent publications include Arata Isozaki and Terunobu Fujimori's Discussions on Tea-House Architecture* (Rikuyosha) and Western-Style Architecture of Modern Japan*(Chikumashobo).
Has designed many history museums, art museums, houses, and tea houses. Recent works include the Grass Roof and Copper Roof (Taneya Main Shop and Headquarters, Omihachiman)