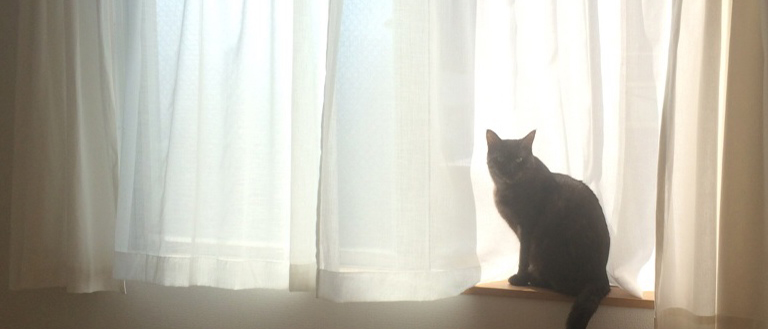 Cats, Fashion, and Windows
25 Nov 2014
Keywords
Madoka Hattori is the director of ilove.cat, an online magazine themed on cats and creators, and a freelance editor for honeyee.com and .fatale, two prominent online fashion magazines that define Tokyo's style. Here she writes about scenes involving windows, cats, and fashion from her experiences with her beloved cat, Sky, and her trip to cover the 2015 S/S Paris Fashion Week.
This window seems like it was made for Sky. It is part of his daily routine to sunbathe here. I wonder if the previous occupant of this house also lived with a cat.
When he finishes eating breakfast, he will come over to the window and insistently cry out, "Meow meow" ("Open it"). I am transfixed by the graceful beauty of his silhouette behind the curtain.
The window seats are the best when traveling on a Shinkansen train or an airplane. A close photographer friend of mine once told me that the posts and walls in the foreground will appear to be warped if I take pictures with an iPhone. Indeed, this slanting may be accurate for scenery viewed at 300 kilometers per hour.
I stop my hands from working and reading to gaze out at the ever-changing scenery. A precious moment devoted to this and nothing else. I am swept away at a terrible speed from the person who I was just with.
At the Paris Fashion Week that I visit twice a year on business. I look outside the windows of the Grand Palais after the show to see the lines of cars waiting to pick up the paparazzi and journalists. This, too, is one of the features of the show.
On the move, I see the Parisian sky through the taxi's sunroof. Apparently there is an ordinance against drying laundry outdoors to preserve the appearance of this city that still retains many old buildings. And yet…there above me are linens.
A dog I met in a café. Does he want to go outside or is he observing the passersby? Every time I see dogs that seem so free, I think about how it would be nice if I could take my cat out on walks, too.
Back to proofreading work in the hotel. Only in Paris would there be such classic-looking metal balustrades. I bought lunch at a nearby sandwich shop. I did not know that French bread was this delicious until I came to Paris.
A view of the Eiffel Tower from the window of the taxi that I took to the airport after having finished my 10-day coverage in Paris. I comfort myself by thinking that the places beyond the windows are all connected no matter where I am—and no matter where I might visit next.
Madoka Hattori
Editor. Graduated from the Musashino Art University Department of Scenography, Display, and Fashion Design. Withdrew from the Musashino Art University Graduate School of Art and Design. Worked as an editor for a women's magazine before becoming involved with magazines such as honeyee.com and .fatale as a freelance editor. Director of ilove.cat, an online magazine themed on cats and creators.
http://kokeisha.com/